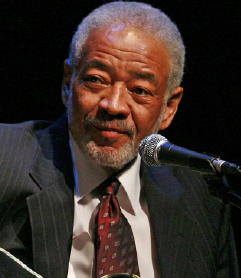 West Virginian Bill Withers, 81, who wrote and sang a string of soulful songs in the 1970s that have stood the test of time, including "Lean On Me," "Lovely Day" and "Ain't No Sunshine," has died.
The three-time Grammy Award winner, who withdrew from making music in the mid-1980s, his family said,"His death comes as the public has drawn inspiration from his music during the coronavirus pandemic, with health care workers, choirs, artists and more posting their own renditions of "Lean on Me" to help get through the difficult times."
"Lean On Me," a paean to friendship, was performed at the inaugurations of both Barack Obama and Bill Clinton. "Ain't No Sunshine" and "Lean on Me" are among Rolling Stone's list of the 500 Greatest Songs of All Time.
Withers and his five siblings were raised in the coal-mining town of Slab Fork, West Virginia. He was born with a stutter, which he said made it hard for him to fit in. In search of new opportunities, at 17 years old, he enlisted in the Navy before moving to Los Angeles to pursue a music career in 1967.
Listen   Lean On Me