Many people in Calhoun County and the area are community minded, generous and dedicated.
The Hur Herald staff would like to recognize those individuals and groups for all they do. We ask our readers to submit names of individuals or groups, along with a brief description of why they are Shining Stars.
Submit your entries to bob@hurherald.com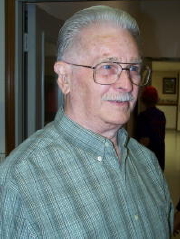 Perhaps one of the most often submitted names for a Shining Star is Grantsville's Pete Trippett.
Korean War veteran Trippett, for many years is the stalwart volunteer keeping the First Baptist Church Calhoun Food Pantry up and running.
"He comes out at all times to serve the hungry...He never complains, just quietly goes about our Father's work...He also does many small and large jobs around the church that no one sees, but God.
He probably doesn't expect thanks here, because of the rewards that wait for him in Heaven, but he deserves a Shining Star, because he is one."