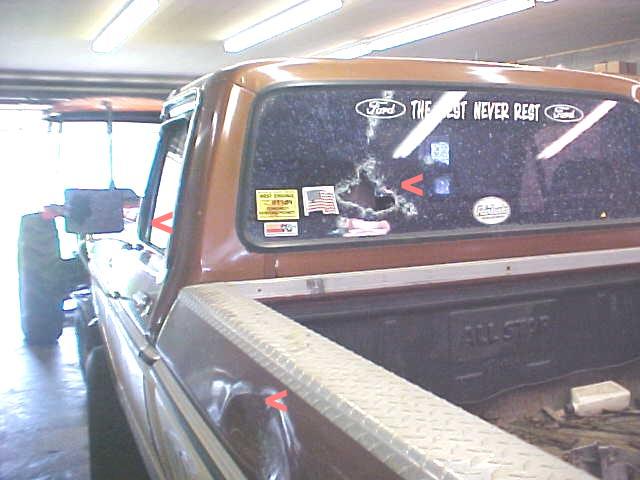 Arrows indicate possible gunshot strikes
Shooting suspect Harold Stutler, 66, of Creston appeared before Magistrate Rick Postalwait yesterday evening. He was charged with attempted 1st degree murder and the malicious wounding of Richard Starcher of Little Creek. He was taken to Central Regional Jail at Flatwoods with bond set at $100,000.
Stutler turned himself in to Sheriff Allen Parsons yesterday afternoon after an ambush-style shooting Monday night in a remote area southeast of Creston.
Sheriff Parsons said Stutler posed no problems for authorities, coming to the courthouse and surrendering.
Little Creek garage owner Richard Starcher received injuries after three or four shotgun blasts struck his pick-up truck.
Stutler allegedly waited along the road bank on the Ace Haney hill for Starcher to drive by, blasting away at his vehicle as it climbed the steep roadway.
There were indications that a shotgun blast went through the open driver's window, with a shot striking the mirror, and another shot shattering the rear window of the truck. It appeared that two other shots hit the truck bed body as the vehicle sped away.
Starcher was treated and released at Minnie Hamilton Health Care Center.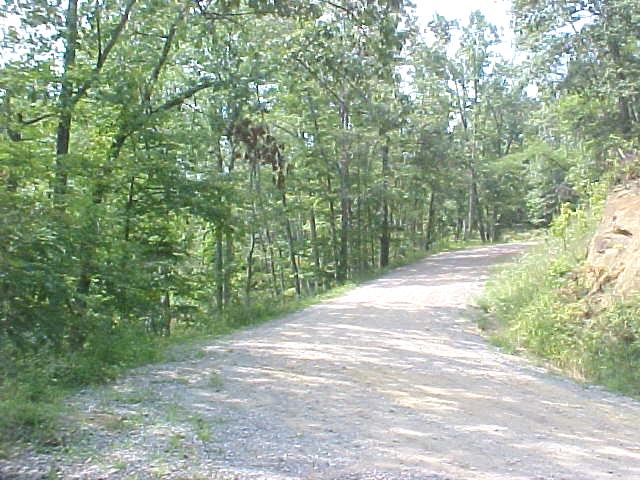 ACE HANEY HILL - Starcher vehicle was traveling up hill,
shooter was apparently over road bank lower left
Stutler is a well known Calhoun hunter, fisherman, trapper and herb digger. He has operated a root buying business at his residence for many years.
Stutler, who is Starcher's brother-in-law, has been in a family dispute over property rights on Little Creek for over a year, according to a family spokesperson.