By Bob Weaver 2019

In my lifetime I have been fortunate to have meet a number of exemplary human beings, among them the Griffith brothers from Charleston.

One being an Emmy winning, TV newsman and personality Fred Griffith of Cleveland, whose career spanned 40 years. The other, his brother Jerry, with whom I attended mortuary school in 1968 in Cincinnati. Both are now deceased, Fred passing in 2019.

As friends, they would always make me feel better, usually a humorous slat on the human condition - great storytellers.

I smile when I think of them.

We would often lament that storytelling has been down-sized by 21st Century technology, takes up too much valuable time.

Here is a little story Fred wrote about my place on earth, the Village of Hur.

"MY HUR" July 2003 Currents Magazine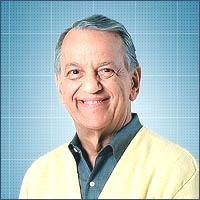 By Fred Griffith
We're still here.
But then, there never was much doubt in our minds that we would still be here for whatever comes next in our lives.
As you read this, we have sold a house and bought a house. A young family will take over our old place, a house where Linda and I spent something over twenty years of our lives. Neither of us had ever lived in any one place as long as that. I know that the new owners will enjoy this wonderfully crafted old place with the woods and the lakes just across the road, Shaker Square just a 10 minute walk, and downtown only 15 minutes away.
And the place we are going to, much smaller and only half as old (mid-century modern, someone has called it), has just been given up by its long-time owner who is also looking ahead to the next part of her life. And I will still be able to go downtown without having to get on a freeway.
I guess at this point in our lives, we could have gone anywhere. Maybe back to West Virginia. Perhaps back to some other hills, like the Berkshires of western Massachusetts where Linda grew up. "How about Scottsdale?" our friends ask. My brother says Alabama is nice. And as long as the A/C is functioning, so is the Florida coast. But we never really considered any of them.
I guess Cleveland is my Hur.
Hur is a little town in central West Virginia. Not many people live there. But those who do have always been there. They could have gone to other places to work and live, but they chose not to leave where they were born and raised.
I learned about Hur by reading the Hur Herald. This newspaper does not get thrown onto your porch; it comes into your home on the internet. It is as contemporary, in that sense, as Slate, or any other hi-falutin', cutting edge internet magazine.
My late brother Jerry told me about it. He had learned the funeral business years ago with Bob Weaver. They stayed in touch during their careers. And Jerry one day was surprised to learn that Bob Weaver was going back to Calhoun County and the little village of Hur. There was enough work there for him to make a living. And a few years ago, he started writing about the place where he grew up, the people he had known all his life, and the qualities of that quiet life that had kept them there.
"Our village stands on the edge of memory," he once wrote, "Soon to be forgotten by most. Those of us with roots in its clay hold cautiously to the place like some cling to diamonds and pearls. There are powerful memories of a time when people were full of gratitude for even the smallest of things. Life was hard but simple and most every neighbor was treasured."
"Our families thrust themselves deep into these steep mountains and craggy hollows to learn the toil of the soil, breathing sustenance and survival. Then there is the spiritual connection with the earth and creation---a seldom interrupted peace, safe and free."
At first, he printed his thoughts and distributed a few copies of what he had written to his neighbors. Then he crafted a web site, www.hurherald.com, now a destination for a hundred thousand people a day who want to understand from Bob Weaver why he and they stay in this quiet country setting.
I came to Cleveland from West Virginia in 1959. As a broadcaster with a young family, I needed a "bigger Market," as they say. And Cleveland was my pick. I got the job and have been here ever since.
I remember going for Sunday rides back then with my son Wally. He would say, "Let's get lost." And we would. We would choose a neighborhood and go there, and drive up and down the streets, learning what it was like, who lived there, reading the signs on the shops and restaurants. We would sometimes stop and buy a frozen custard or a pastry or a sausage sandwich and try to learn to pronounce its name. We learned about the factories and mills and neighborhoods.
Later, as I worked in news, I got to know the people who were involved in running things---the mayors, the council members, police officers, business executives, symphony conductors, restaurateurs, artists, actors, social activists, religious leaders. And they became the people I would write about in my commentaries or interview for the news.
I really knew Cleveland, but eventually I got an invitation to leave. A radio network came calling, but I didn't take the offer. My kids were young, and I had just been made news director of the television station where I worked. Had I taken the network offer, where would I have gone? What would have been my assignment? Could I have moved from that to television? Would I eventually have become a junketing correspondent, or a producer on the evening news? If it had ended too soon, where would I have been? What would I have done next? Would I have ever had the chances to learn about a place in the same way that I had gotten to know and understand Cleveland? Probably not.
Other opportunities came up from time to time, especially when the Morning Exchange was so hot. But I was having the ride of my life, doing more daily live television than anyone in the world. And, to borrow a line from Dorothy Fuldheim, I had a thousand friends.
So Linda and I are staying here. I don't want to wax rhapsodic; just put the case that we have so much people equity in Cleveland that we could never leave. Just as Bob Weaver has a life time of it in that little place in central West Virginia.
FRED GRIFFITH IS A NATIVE WEST VIRGINIAN
Emmy winner Fred Griffith is greater Cleveland's best known TV personality and newsman. He holds the national record for time on live TV, more than 13,700 hours. He has conducted over 40-thousand interviews, has written and produced scores of specials and documentaries, and has written and aired 2200 news commentaries.
Fred Griffith has worked in Cleveland broadcasting since 1959. He is now with WKYC, the NBC affiliate in Cleveland. For 33 years he was with WEWS, as a reporter, news producer, news and public affairs director, and for over 26 years, host of the daily two hour Morning Exchange program. He is in the Cleveland Press Club Hall of Fame and holds the Distinguished Service Award from the Society for Professional Journalists and the Cleveland Association of Broadcasters Award for Excellence. In 1992 was inducted into the television academy's Silver Circle.
Griffith grew up working in his family's restaurant in Charleston, West Virginia. He majored in philosophy at West Virginia University. After service as an Air Force officer, he became a broadcast journalist, working as a radio news director in Charleston before moving to Cleveland.
He has been a serious climber and a long distance runner, and is among the small group of people who have stood at both the north and south poles. He has been to every continent.
He has worked with his wife, Linda, on five cookbooks.
He is a columnist for Currents, published by the Chagrin Valley Times.
Photo courtesy of University Hospitals of Cleveland