Charleston, WV--West Virginians feel strongly that adults who work hard and play by the rules should have an adequate standard of living for themselves and their families, according to a report issued February 28 at Childrens Day at the Legislature. Making Ends Meet: How Do We Support West Virginias Working Families? reports on the outcomes of 30 nonpartisan community forums that took place across the state in the last four months.

Forum participants felt it was unfair that many working families in the state still do not earn livable wages with basic health coverage. Similarly, participants felt it was fair to provide incentives and rewards to employers who create good jobs, provide benefits to their workers, and make a long-term commitment to the state.

The community forums were motivated by broad concern about the status of West Virginias working families, many of whom were viewed as struggling to make ends meet despite an era of relative national prosperity. Beginning in October over 600 people attended forums held in communities throughout the state. Forum participants came from a wide range of income levels, with over one-fourth from families with incomes of less than $25,000 per year and nearly one-fourth with incomes over $75,000.

As participants examined a broad range of approaches to addressing economic, educational, and social aspects of the issue, common themes emerged:

Most participants strongly favored expanding health coverage and reducing the tax burden on low income workers as ways to honor and reward work. There was wide agreement and understanding that such steps would likely be incremental in an economy with limited resources.

Participants viewed public transportation and child care as basic needs of low-income working families. They were concerned about the costly necessity of owning a car for transportation to work and about the lack of qualified child care providers in some parts of the state.

Many reported that their job decisions were increasingly motivated by the availability of health insurance. Some talked about the double stress of being uninsured and making wages too low to be able to afford medical care if they needed it. Many people felt that race and gender create significant inequalities in education and employment opportunities. They were concerned about training opportunities for women in higher-paying jobs and about racial disparities, noting that unemployment and child poverty rates are much higher among African Americans.

Some expressed deep concern that we dont place a high enough value on education in West Virginia and that some children are not encouraged enough--at home or at school--to see education as a means to a better job and a better quality of life.

Nearly everyone agreed that West Virginians need more opportunities for education and training beyond high school. While they favored strong opportunities for students to pursue a college education, they also stressed the need for more attention to students who do not plan to attend college. They supported strong vocational and technical programs, particularly in areas where people were likely to find employment.

The Calhoun Family Resource Network and WVU Extension Service held a Making Ends Meet issue forum February 21, at the Calhoun Co. Library. The forums were sponsored by a consortium of statewide organizations and local partners throughout the state, including the Family Leadership Project of the WV Family Resource Networks Association, West Virginia Community Voices Partnership, West Virginia Center for Civic Life, Coalition for West Virginias Children, Governors Cabinet on Children and Families, WVU School of Applied Social Sciences, West Virginia Council of Churches, West Virginia Welfare Reform Coalition, , West Virginia Public Radio, and American Friends Service Committee.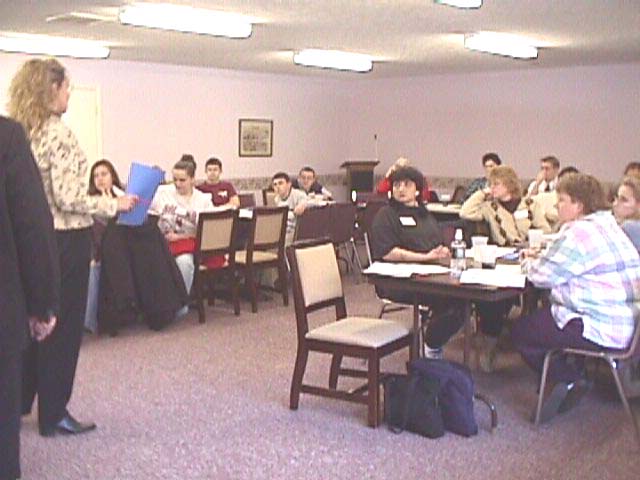 Forum participants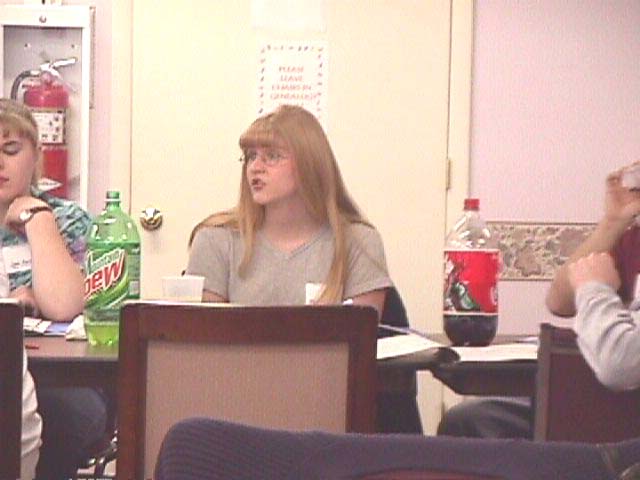 Mary Ellen Bell, high school student
Morgan Graham, high school student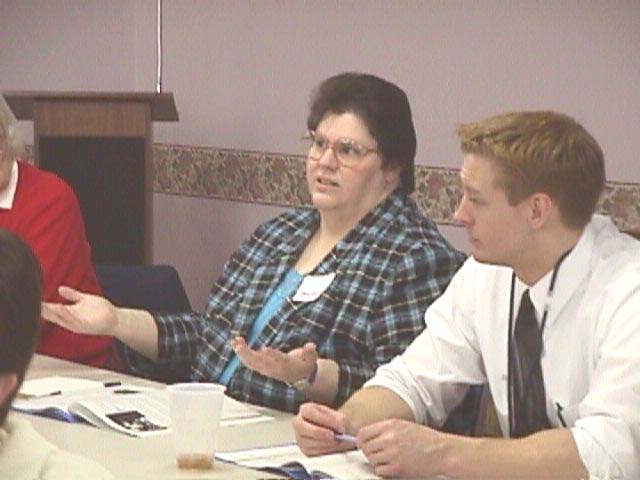 Pastor Mary Zimmer
For more information, please call the West Virginia Community Voices Partnership at 304-558-0530 or West Virginia Center for Civic Life at 304-344-3430.
A full copy of the report is available by clicking here wvvoices