(Update 2 p.m.) A Gilmer County man ran from police Wednesday morning, driving his car at high speed for thrity-five miles across Gilmer and Calhoun County, before being captured at the "Y" Mart at Arnoldsburg. Jerome D. Reidle fled from officers after his bond was revoked in a Glenville court. He reportedly had been charged with a problem related to a domestic situation.

Sheriff Allen Parsons said "He apparently did not want to go back to jail." Reidle, who was accompanied by a male juvenile, drove his older model Cadillac at speeds reported over 80 miles and hour, sometimes driving across the center line. Police officers said Gilmer County Sheriff Gary Rose was nearly run down by the suspect in Glenville.

911 dispatcher Lisa Purvis said the Reidle car sped pass the 911 center at a very high rate of speed, going into a curve left of center. 911 had advised local law enforcement at 10:22 a.m. of the problem.

The Gilmer County Sheriff's Department and the Glenville Police Department remained in pursuit of the suspect. Calhoun State Police Commander Sgt. John Bonazzo and Sheriff Allen Parsons and his deputies pursued Reidle on Route 16 south of Grantsville. "He was flying high on the wrong side of the road around the ridge" according to a Mt. Zion resident. Police agencies from Clay, Roane and Ritchie were also alerted.

State Police and Gilmer law enforcement followed Reidle to the Arnoldsburg "Y" where the suspect attempted to elude police by driving through the "Y Mart" convenience store lot, where Sheriff Allen Parsons blocked his exit. Seven police cruisers came to the scene.

"It was a dangerous situation," said Parsons, who along with other law enforcement said they are grateful for the back-up and cooperation. "We really want to thank our Calhoun citizens for helping us keep on top of this situation." Several local residents, including scanner listeners, helped track Reidle.

Reidle will likely be charged with multiple offenses.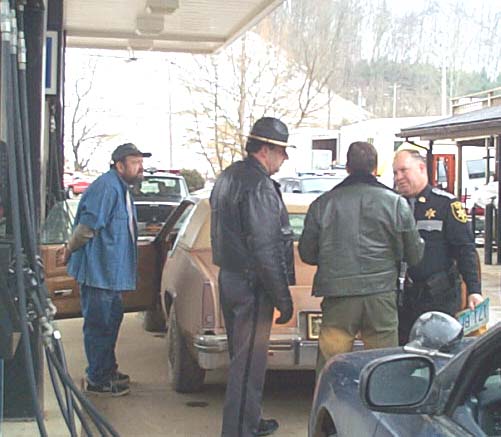 Jerome D. Reidle (left) stopped at Y-Mart convenience store, Gilmer County Sheriff Gary Rose (far right)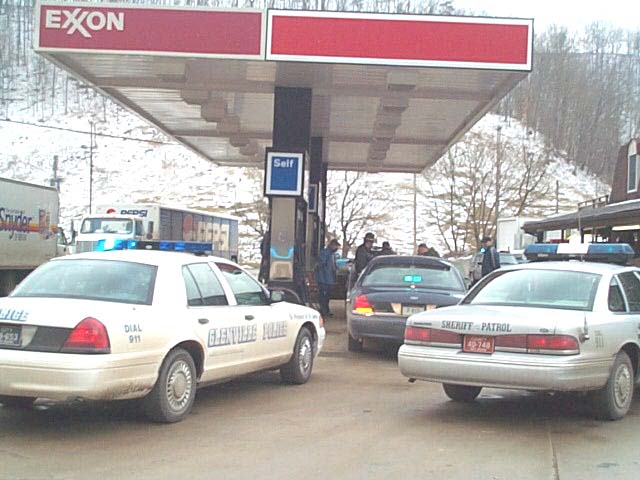 Seven police cruisers from three counties participated in stop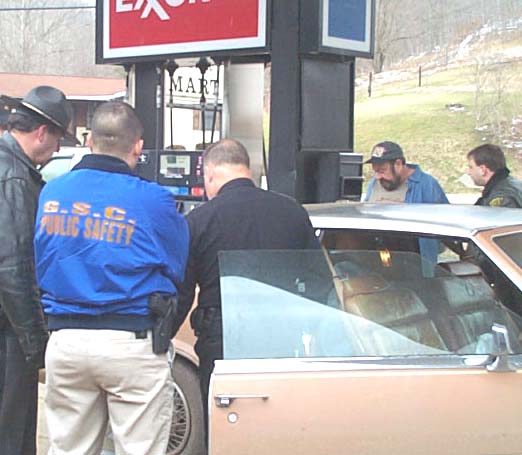 L to R, Calhoun County Sheriff Allen Parsons, GSC Security Officer, Gilmer Sheriff Gary Rose, Jerome Reidle and WV State Police Sgt. John Bonazzo