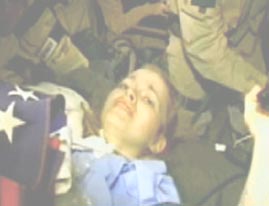 By Bob Weaver

Jessica Lynch was rescued in a dramatic nighttime assault on Saddam Hospital in Nasiriya, which was doubling as an Iraqi military post. Eleven bodies were discovered in or near the facility, nine in graves.

Wirt County continued to celebrate this morning. "The little brat has caused a big stir in this county," said her father, Greg Lynch, jokingly. When asked what the family plans were upon Jessica's return home, Mr. Lynch said, "We're gonna have quite a shindig."

A Blackhawk chopper swooped down on the facility, taking gunfire, while other rescuers engaged the enemy nearby.

Marine Capt. Jay La Rossa from the 15th Marine Expeditionary Unit, said Lynch had two broken legs and a broken arm, but was stable and in good condition, Reuters reported.

Pentagon sources said she suffered multiple serious gunshot wounds in the ambush, although her parents, Mr. and Mrs. Greg Lynch of Palestine, told reporters this morning they were unaware of her actual injuries.

The father told reporters this morning "She is doing extremely well." The family has been having evening prayer meetings, he said.

"It was a classic joint operation done by some of our nation's finest warriors who are dedicated to never leaving a comrade behind," said U.S. Central Command spokesman Brig. Gen. Vincent Brooks.

As U.S. Marines launched a diversionary assault on Iraqi forces, a joint force composed of Army Rangers, Air Force pilots, combat controllers and Navy Seals. raided Saddam Hospital.

The military received a "secret note" indicating Lynch was a captive in the hospital.

"At this point she is safe, she has been retrieved and some brave souls put their lives on the line," Brooks said.

Seven other members of Lynch's 507th Maintenance Company, based at Fort Bliss, Texas, remain missing after their convoy was ambushed. Five other members of the unit were taken prisoner during the raid and another is listed as killed in action. At least four other members of the 507th were wounded.

A man seized in the assault led U.S. forces to 11 corpses, nine buried outside and two in the hospital morgue. An investigation is underway to identify the bodies.

"We have not yet confirmed that they are Americans who were in the same unit as Private First Class Lynch," said military spokesman Capt. Frank Thorpe.

U.S. forces found ammunition, mortars, maps and a terrain model in the building's basement -- evidence that Iraqi forces used the hospital as an operational base, Brooks said.