Submitted By Larry Stinn
Pleasant Hill School Principal

Pleasant Hill students had their second annual Dr. Seuss on the Loose celebration on March 2, Dr. Seuss birthday. Brittany Harris read The Foot Book over the intercom to the whole school and everyone sang We Love You, Dr. Seuss.

Students were allowed to wear hats that day and some teachers wore Dr. Seuss high hats inspired by The Cat in the Hat. Mrs. Nichols and Mrs. Johnsons kindergarten class made their own high hats with red and white stripes and painted cats whiskers on their faces.

Each class then heeded the principals call to Stop everything and read a Dr. Seuss story In some classes, their teacher read the children a story. In others, students read to one another. Afterward they picked their favorite Dr. Seuss story and illustrated a poster or a bookmark. These illustrations are proudly displayed near the entrance of school.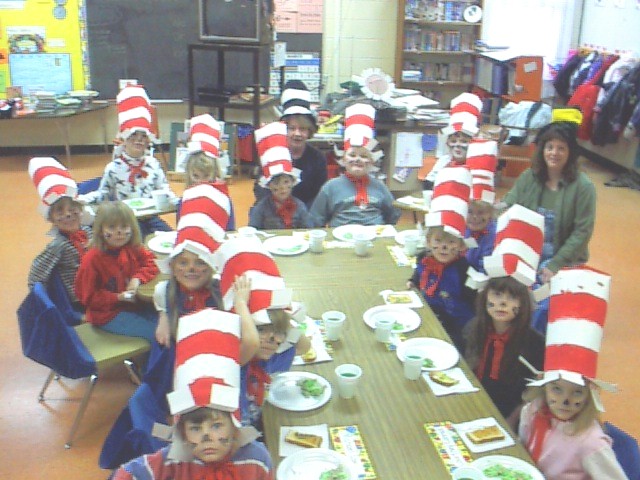 Mrs. Nichols students (from lower left around the table) Michael Cox, William Keaffaber, Hannah Peck, Sierra Snider, Devon Toppings, Nicholas Sampson, Chelsea Jones, Nathan Turner, Mrs. Johnson, Derek Dawson, Patrick Shimer, Mrs. Nichols, Lindsey Webb, Charles Wagoner, Mercy Roberts, and Courtney Conrad.