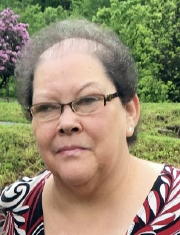 Roberta Jo Blake age 60, of Sand Fork, WV, went home to be with the Lord on the evening of May 13, 2020 at CAMC General Hospital at 7:58 p.m., following an extended illness. Roberta was a fighter and her work on earth was done because heaven needed another angel.

She was born on May 15, 1959 in Braxton, WV, daughter of the late William and Sylvia Ratliff.

Roberta was a former employee of the Kenny Shoe Factory and A Small World Day Care for a short time, where she loved and cared for the little children. Roberta had a heart of gold and was always giving her love, support, and pick-me-up to everyone she came in contact with. The job she loved the most was being a Mom to her pride and joy, Jessica, and being a "Granny" to the many foster children that have become like family to her over the past two years.

She attended church at the Sand Fork Church of God of Prophecy. She was also a member of TOPS 218 Glenville for nearly 30 years, where she made many everlasting friendships that she cherished dearly. Her family was her true passion in which she was part of the glue that held it together. Roberta lived most of her life dealing with many illnesses, but she never let it get her down. She was strong and she was a fighter and she finally won the battle. She will be missed by so many and her sweet spirit will carry on forever.

On August 25, 1984, she was united in marriage to Rickie Wayne Blake at Gilmer Station, who survives at their home. Going to the beach together was something that they both truly enjoyed. Every year since they got married, Roberta would wear his hunting hat the first day of hunting season to bring him good luck and it always did. She always gave him orders to be out of the woods before dark. They were each other's rock and their love for one another will carry on forever.

Also surviving is one daughter, Jessica Blake-Brown and husband, James Brown of Charleston WV; two brothers Richard Ratliff and wife Carol of Jane Lew WV, Rusty Ratliff and companion Bonnie Frymier of Cox's Mills WV; and two sisters Rosemary Ratliff and companion Hoppy Steele of Stout's Mills WV, and Rhoda Fischer and husband Bob Fischer of Sand Fork; and several nieces, nephews, and cousins.

A funeral service will be conducted at Ellyson Mortuary on Sunday, May 17, 2020. The viewing will held from 1:00 p.m. to 3:00 p.m., with the funeral at 3:00 p.m. Pastor Bryan Groves will officiate. Burial will follow in the Little Kanawha Memorial Gardens Cemetery.

Ellyson Mortuary Inc., is honored to assist the family of Roberta Blake with the arrangements.