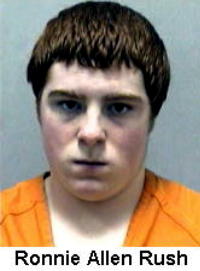 State Police arrested Ronnie Allen Rush, 33, a former Calhoun resident who resides in Mineral Wells, during the early morning hours Monday.

He is in Central Regional Jail with bond set at $40,600.

Rush was driving a truck, traveling on the Mt. Zion Ridge, when he lost control of his vehicle, crashing into a tow truck belonging to Westfall's Wrecker Service, damaging it.

When police arrived, Rush denied being the driver of the vehicle, according to Sgt. C. J. Weekley.

Surveillance cameras, according to the criminal complaint, indicated Rush was the driver of the truck, tracking his movements following the crash.

The complaint indicates that at one point a fire consisting of rags was likely ignited inside the passenger compartment.

Rush was charged with no insurance, no MVI, no operators and obstructing, lying about not being the driver, also removing the license plate of the vehicle before police arrived.

Rush had been released from the WV State Prison, after pleading guilty to the brutal murders of Calhoun residents Ward Groves and Mary Hicks in 2003.