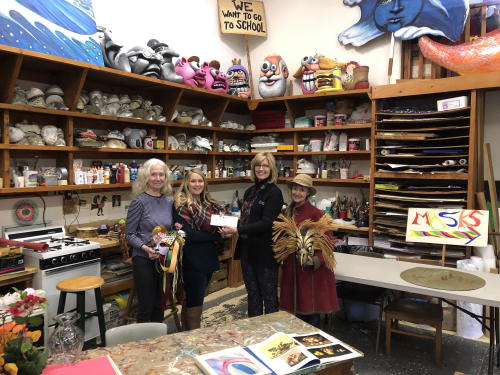 Pictured left to right Susan Grahame, Maria
Arnold, Christine Mitchell, and Jude Binder
Representatives from Dominion Energy's Diversity and Inclusion Council presented a $3000 grant to Heartwood in the Hills, on Wednesday November 13th, in recognition of its effort to bring diverse artistic opportunities to Calhoun County, W.Va., as well as surrounding counties.
Founded in 1982, Heartwood in the Hills provides several programs including classes, special events, workshops and performances. Heartwood's core philosophy is that the arts belong to everyone and the artist in each person deserves nurturing.
This donation will allow Heartwood, a non-profit organization, to create a new program titled, "Reaching Across the Years and the World with Art." Here, participants ages five and older, regardless of background, will come together to explore arts around the globe and create an artistic presentation for an end of year program.
"Dominion Energy's Diversity and Inclusion Council is pleased to support Heartwood in the Hills as it draws community members from all backgrounds together through art," Christine Mitchell, External Affairs Manager for Dominion Energy said. "We believe that beauty and strength can be found by sharing what makes us unique and we commend this program as it unifies participants by exploring the arts from different cultures around the world."