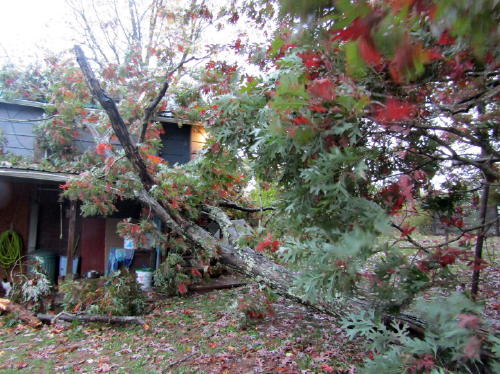 Winds gusting over 40 mph downed this tree on the World Headquarters of the Hur Herald's back porch mid-afternoon Thursday, with an electric line hovering over Grantsville's Main Street, and numerous trees down.
The National Weather Service has issued a tornado watch for parts of West Virginia until 7 p.m. Thursday.
All Calhoun Schools after school programs and sports for Thursday evening canceled.
The following West Virginia counties are still under the watch until 7 p.m.: Fayette, Braxton, Calhoun, Clay, Gilmer, Nicholas, Taylor, Webster, Barbour, Doddridge, Harrison, Lewis, Pocahontas, Randolph, Ritchie, Tyler and Upshur.
About 30,000 regional residents were without power Thursday at 5 pm.
The tornado watch for Boone, Greenbrier, Lincoln, Logan, McDowell, Mercer, Mingo, Monroe, Raleigh, Roane, Summers, Taylor, Wirt and Wyoming counties has been canceled.
Expect electrical disruption.