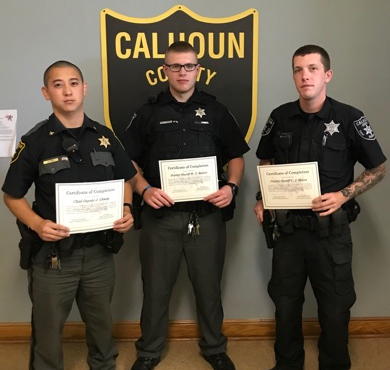 Shown L-R: Chief Deputy Jason Chang, Deputy
Wiley Tyler Raines, and Deputy C. J. Myers
The Calhoun County Sheriff's Department officially completed intense SWAT Operations training. All members of the Calhoun County Sheriff's Department are now certified SWAT Operators, according to SWAT Operations Instructor, Sheriff Jeff Starcher.
A SWAT Operator is a highly trained officer that address situations beyond the capabilities or training of ordinary police officers.
Officers completed training in the areas of:
- decision shooting
- precision shooting
- low/obstructed light shooting drills
- shooting under stress
- situation evaluations
- establishing inner/outer perimeters
- room clearing techniques
- high risk entries
- door breaching techniques
- utilization of cover and concealment
- addressing of vulnerable situations, including "soft targets"
- quick draw and reloading drills
- dynamic and deliberate entry drills
- active shooter training
Sheriff Starcher stated that this training is beneficial to all law enforcement officers, and will better prepare officers for situations involving high risk warrants services, barricaded suspects, and in situations involving heightened danger.