UPDATE 10/2/2019 - A man wanted for murder in Georgia, who had been spotted in West Virginia, has turned himself in.

Austin Todd Stryker, 22, of Dawsonville, Ga., is in police custody in Pennsylvania, according to the Georgia Bureau of Investigation. Efforts are being made to return Stryker to Georgia.

UPDATE 9/27/2019 - A reward is now being offered for information leading to the capture of a man wanted for murder in Georgia who was spotted this week in Clay, West Virginia.

The U.S. Marshals are offering a $5,000 reward for information on Austin Todd Stryker, 22, of Dawson County, Ga., according to a news release from the U.S. Marshals Service.

ORIGINAL STORY - West Virginia State Police believe a person wanted for a murder in Georgia could be in West Virginia.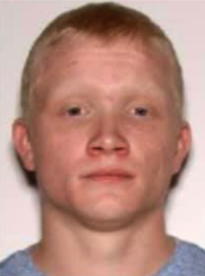 Austin Todd Stryker, 22, of Dawsonville, Ga., was last seen in Clay County.
The Lumpkin County, Georgia, Sheriff's Office said it began an investigation after the mother of a woman named Hannah Bender filed a missing person's report on Saturday. Investigators said they found bloody clothing believed to have belonged to Bender.
Stryker is 5 feet, 9 inches tall and weighs 150 pounds and has blond hair. He was last seen wearing blue jeans and a maroon shirt.
Troopers said he is believed to be armed and dangerous.
Anyone with information is asked to contact 911.