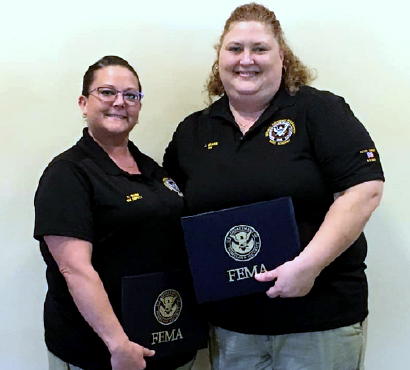 Kelli Barr (left) and Julie Sears
In March of this year, Julie Sears and Kelli Barr began taking monthly classes in what is now the first graduating class of West Virginia based National Emergency Basic Academy taught by EMI [Emergency Management Institute] located in Emmitsburg MD.
This class was sponsored by The West Virginia Department of Homeland Security and Emergency Management and EMI/FEMA and was held at Flatwoods, WV.
The candidate for graduation must obtain countless hours of independent per-requisite courses before being able to apply to the Basic Academy.
The Basic Academy contains over 150 hours of classroom instruction, including, team building exercises, mock disasters/drills and full scale exercises.
There were 38 graduating Emergency Managers from across the State, and Calhoun County accounted for two of those.
Calhoun County's OES Director [Office of Emergency Services] Julie Sears said, "We are very fortunate to have this opportunity to get such in depth training so close to home."