Calhoun native Odus Miller, 92, could be one of Calhoun's "Last Men Standing" - a veteran of World War II.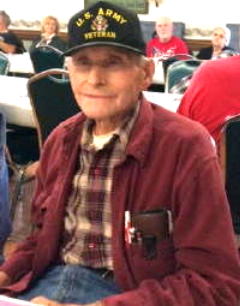 Odus, who now lives in Georgia with his son, was the son of the late Samuel and Alta Miller of Letherbark.
For several years, living on Bull River, he was active in the Grantsville senior citizen program.
Mike Ritchie, former Director of the Calhoun County Committee on Aging, established a "Last Man Standing" for the old vets who were in that perilous conflict that shook the world.
In the past five years, their number have dramatically decreased in the county, which had among the highest number of WWII vets per capita, in the USA.
"Walls of Remembrance" have been created at the Grantsville Senior Center and VFW.
With Veterans Day approaching, we'd like to hear about other WWII veterans living in Calhoun or Calhoun residents across America who would be eligible for the last man standing.
Contact bob@hurherald.com