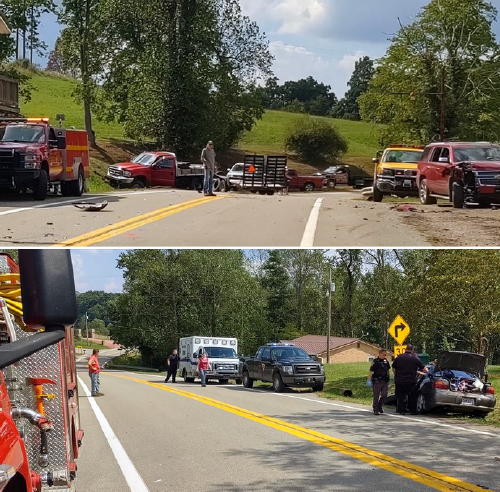 Photos courtesy of Arnoldsburg Vol. Fire Dept.
The Arnoldsburg and Grantsville VFDs are responding to a vehicle accident situation at 2:25 p.m. Wednesday on Rt. 16, near Calhoun-Middle High School.
A responder said there was at least one confirmed injury, with the highway blocked.
Reports indicate at least three vehicles are involved with a large amount of debris on the highway.
A Roane County EMS ambulance is also responding to the scene.
The Calhoun Sheriffs Department and the West Virginia State Police are on scene just south of the school at the location of the old Nesters Store.
Wednesday night there was an on and off fire call to Honeysuckle Lane (Sinking Springs), the 911 call at 9 p.m. was canceled, a caller saying it was a controlled burn.
A second call to that location was received at 9:30 p.m. with the Grantsville VFD responding, this time reported to be a burning van or garage or structure.