UPDATE 8/20/2019 - The Hur Herald ask Superintendent of Schools Kelli Whytsell to comment on a shooting threat Monday, related to how a male student made the threat, by Internet, phone, writing or in person.

Whytsell said, "This is an open investigation at this time so I can not comment."

It was not learned what authorities did in response to the threat.

UPDATE 8/19/2019 - Calhoun Superintendent of Schools Kelli Whytsell released a statement Monday evening regarding a suspected "shooting threat" at Calhoun Middle-High School:

Calhoun County Schools is committed to the safety and well-being of all students. We encourage students and the community to report any suspicious behavior. Every incident is taken seriously.

At the end of the school day today information was provided that warranted further investigation.

The WV State police, Calhoun County SheriffÂ's Office and school administrators responded to the school.

The investigation evidence proved that there is no immediate threat to the students or community. The school will reopen as scheduled on Tuesday.

We appreciate your understanding and cooperation throughout this situation.

Kelli Whytsell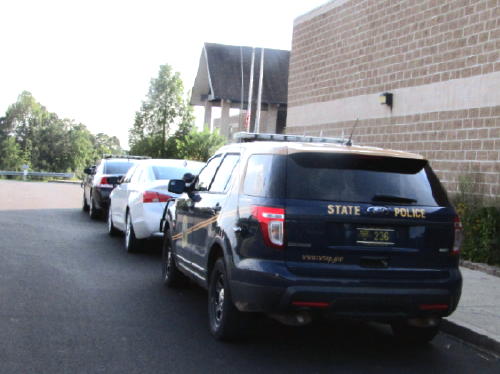 5:40 PM 8/19/2019 - Police indicated they have the subject detained, reportedly the student's father had returned him to school. No other details available.
5:30 PM 8/19/2019 - Several Calhoun law enforcement officers were responding to Calhoun Middle-High School for an "active shooter alert," first reports indicated a 15-year-old could "on his way to the school" apparently with a weapon.
The alert was being considered as an "active shooter" threat.
It was unclear when officials first learned about the threat, likely by the School Resource Officer, Deputy Sheriff Wiley Tyler Raines.
Police were setting up road checks on all traffic and the school was on lockdown.
Superintendent Kelli Whytsell said after-school students had already been dismissed.
Whytsell said, "The situation was handled well by authorities, with no immediate danger." She will be releasing a statement about the incident.
More to follow ...