8/6/2019 - A huge, oversized piece of equipment will be moved west on US 33 from Arnoldsburg to Spencer and Ripley Wednesday morning, according to 911/OES Director Julie Sears.

The equipment has been parked at Arnoldsburg for several days, waiting on a plan to move it out of the area.

Sears said the oversized load will start Wednesday starting around 7 am, saying motorists should expect major delays while it is being moved.

HUGE EQUIPMENT THAT CAUSED PROBLEMS SIDELINED AT ARNOLDSBURG - Unit Had Been Routed Off I-79

By Bob Weaver

8/2/2019 - The oversized load that blocked traffic on Rt. 16 south of Arnoldsburg for several hours earlier this week has been sidelined at Arnoldsburg, according to 911/OES Director Julie Sears.

The 142 feet long, 16 feet wide, 16 feet tall unit, weighing 160,000 pounds had been routed through rural West with a destination being a compressor station at Weirton.

Some overhead phone lines were torn down on Route 16, with reports Wednesday and Thursday saying the lines were still obstructing traffic.

Sears said a hauling company from the mid-west decided the WV backroad route was best to avoid construction and issues on I-79, and the State of West Virginia approved the permit.

Sears said the WV-DOT says the unit will be moved Friday, requiring a bucket truck go in front of the load to make sure power lines, telephone lines, traffic lights and anything else low hanging will not be disturbed.

She said there is a great likelihood that sections of roadway on US 33-119 to Ripley could be closed.

Over the years large equipment has been routed through Calhoun with the same problem happening.

Sears said she was assured that the blame lies with the company for not surveying the route before embarking on this journey, but some blame falls back on WV-DOT issuing the permit.

"I have had this county "red-flagged" to not allow these types of oversized loads to pass through," she concluded.

HUGE PIECE OF EQUIPMENT BLOCKED RT. 16 SOUTH OF ARNOLDSBURG - Wrecked At Large Highway Slip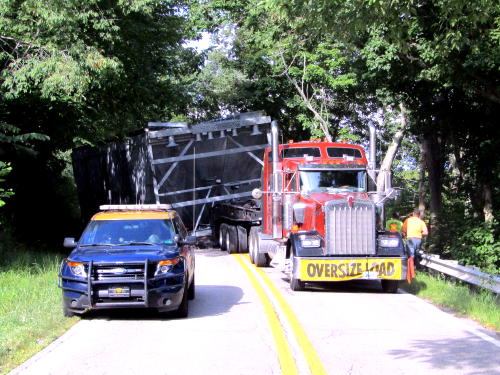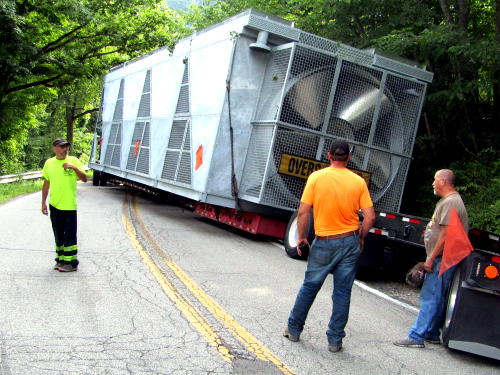 A tractor pulling a very large piece of equipment wrecked on Rt. 16 just south of Arnoldsburg, blocking the roadway at 4:30 p.m. The roadway was opened at 9 p.m. after summoning some heavy duty removal equipment.
The unit was reportedly enroute a compressor station from the mid-west and was following a routing plan.
The 160,000 pound unit appeared to be used for ventilation.
The driver lost control when he was trying to squeeze through a one-lane passage at a major road slip.
Overhead lines were torn down on Rt. 16 as the unit traveled north on Rt. 16.
The Arnoldsburg VFD and State Police responded, and the WDOT was rerouted traffic.