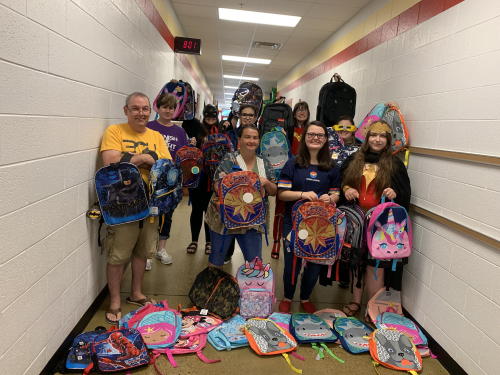 Submitted by Makayla Smith
The fifth week of Summer Camp at Arnoldsburg School flew by! The summer is winding down, this is the final week. We have had so much fun this summer and the kids have learned a lot. We are so excited for the activities planned this week. We are having a summer showcase on Thursday afternoon.
We will be spending the afternoon playing games and giving away school supplies. Thanks to donations from the community, each child will be able to take home a bookbag filled with pencils, notebooks, crayons, markers, and pencil pouches.
This week in STEM, middle school students started working on a biome project. This project allowed them to learn more about the environment.
In the past week, the kids built egg cars and completed a family genealogy project. This allowed them to learn more about their family history.
In healthy choices, the students reviewed what a balanced diet is by playing a game with beanbags, and as a class they would define the word and decipher whether itÂ's a healthy choice or not. They also reviewed the food pyramid and created a healthy breakfast menu.
In Math, third graders worked on their multiplication tables by flash card games. Fourth and fifth graders practiced long division, fractions and multiplication games. We also practiced terms and definitions.
In nature club, campers observed bird nests to look for changes in the baby birds. In art club, we worked together to create a mural with our classmates. They created parrots out of paper and streamers. This week they are making friendships bracelets and will do bubble painting.