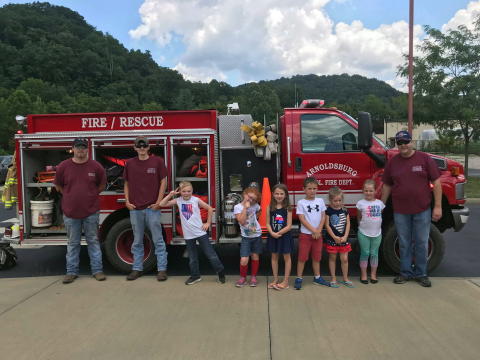 Wyatt Lawson, McKenzie Boswell, Harlow Sarratori, Reece
Johnson, Mercy Starcher, Payton Quick with fire department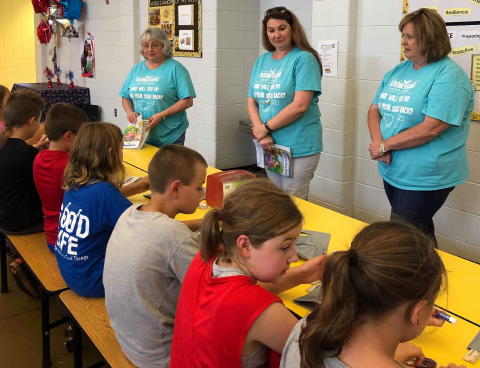 Calhoun Banks employees provided students
with goodie bags including school supplies
Submitted by Makayla Smith
The fourth week of Summer Camp was a huge success! For "Fun Friday," staff and students welcomed a few county authorities to Arnoldsburg Elementary; the PRO officer, Wiley Raines, the fire department, EMS, and the Arnoldsburg Bank to meet the kids.
This gave the children an opportunity to get to know these people and get acquainted with what their roles are in our county. We would like to thank each of these people that took the time to come out and support our kids. They loved it.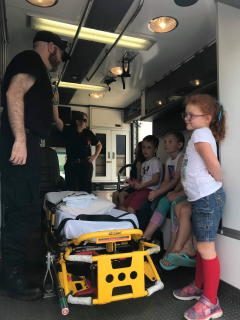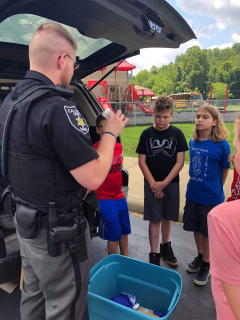 This week in RAvFL, second and third grade read the book, "Thank you, Mr. Falker," by Patricia Pollaco. They were introduced to and learned new vocabulary found within the book: knowledge, abuzz, teasing, and cunning. They finished the week by playing a fun vocabulary game called "swat the word" in two terms.
Fourth and fifth grade finished their book, "Summer of the Sea Serpent." They played the vocabulary card game OOPS! and worked on vocabulary books to reinforce learned words from the past weeks.
In healthy choices, the students started learning how to develop and follow a healthy routine. They made examples of good and bad routine and compared activities. They talked about long term benefits of eating healthy and staying active.
In math, they utilized the warm weather by playing addition and multiplication hopscotch outside. They also worked on their equation writing.
In art, they learned about the works of Pablo Picasso and worked on their own versions of his paintings.
Finally, in GIRP, they worked hard reading and taking AR tests. They have read fiction and non-fiction books to improve their reading skills and comprehension. Last week, every student in GIRP took a test and made a 90-100%.
REMINDER: We will be going to ACE Adventure on Friday, June 19, 2019. If your child is signed up to attend the field trip, make sure they bring the following items: swimwear, towels, change of clothes, sunscreen. They WILL NOT need money. Please be at Arnoldsburg Elementary at 5:00 p.m. to pick up your child because the buses will NOT be running that evening.