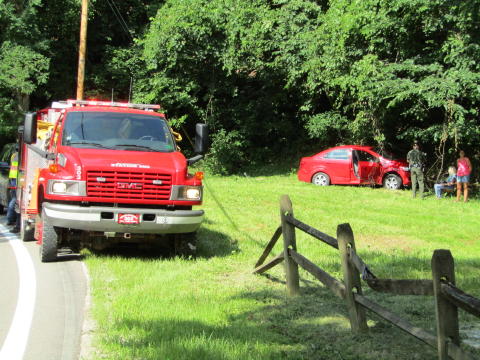 4:30 PM 7/5/2019 - Emergency services was dispatched to Rt. 16 north of Orma at 4:30 p.m.
A 63-year-old woman lost control of her vehicle in a sharp turn and struck a rock, indicating she was suffering from chest pain.
The Arnoldsburg VFD responded to the incident.
Calhoun EMS was delayed arriving on scene because the ambulance was on another call.
She was taken to Minnie Hamilton Health System.
Cpl. Jeff Hunt was investigating.
12:30 PM 7/5 - An 18-year-old woman backed her car over the hill on Crummies Creek Road just after noon Friday, with State Police responding.
Calhoun EMS was dispatched to the scene at the request of the officer to medically clear her or dispatch to a hospital.