In the 20th Century, it was not uncommon for people to stay at a single job for 40-50 years. The US Census in the 21st Century says that most people change jobs about every five years and move about every five years.

By Donna Lancaster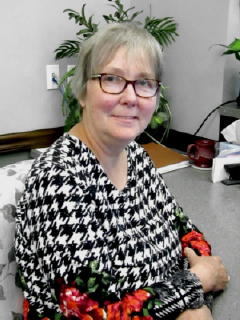 Lancaster greeting customers in 2019 and when
she was first employed at Calhoun Banks in 1973
I was seventeen when my mother Bernice Hawkey wrote a letter to the Calhoun County Bank asking if there was a job opening.
I was getting ready to graduate from high school and going off to college, would mean that my widowed mother would be left alone.
After my interview with Duane Poling, he took me downstairs to show a very nervous teenager where she would be spending the next 4 years. I began my banking career at what was then called Calhoun County Bank as a bookkeeper, when Freddie McCoy was President in June of 1973.
After 4 years I received a promotion to the Loan Department as a Loan Bookkeeper. For the next 38 years I would remain in the Loan Department. I was promoted to a Loan Teller and then to a Loan Assistant.
After JoAnn Stevens retired I became the Loan Department Supervisor. While I was the Loan Department Supervisor I was also given the title Mortgage Loan Processor which finished out my 38 years in the Loan Department.
Around the end of the year 2014 or early 2015, I was asked by Martha Haymaker, President and CEO of Calhoun Banks, if I would be interested in moving to the main lobby, at the Main Street location, to work in customer service, which I accepted.
After moving to our new location on High Street in December 2018, I am currently still working in customer service. As of June, 2019 I have been working at the Calhoun Banks for a total of 46 years and considering retirement in the near future.
Working at the Calhoun Banks for all those years has been an experience. To see all the changes down the years from hand posting checks to processing checks using computers. In my opinion, Calhoun Banks is the number one place to work in Calhoun County. I cannot imagine what my life would have been if that hand written letter addressed to Calhoun County Bank would not have been received 46 years ago.
"For I know the plans I have for you," declares the Lord, "plans to prosper you and not to harm you, plans to give you hope and a future. Jeremiah 29:11
Trust in the Lord with all your heart and lean not on your own understanding; Proverbs 3:5