By Bob Weaver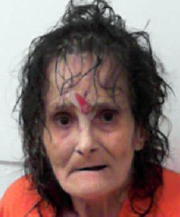 UPDATE 6/7/2019 7 AM: Barbara Anne Cross, 61, of Pond Run, Chloe, a female caller who reported the alleged incident related to stabbing, shooting and hanging of her husband Ronald Cross to Calhoun 911 early Friday, was arrested and charged with False Reporting of an Emergency, and Obstructing an Officer.
She is in Central Regional Jail.
According to the criminal complaint, State Police Cpl. J. B. Hunt said while responding was told that Ronald Cross had not only been stabbed, but shot four more times while four subjects were attempting to hang him.
Cpl. Hunt arrived on scene with Calhoun Sheriff Jeff Starcher and deputies J. B. Chang and W. T. Raines, indicated he could find no evidence of a fight, stabbing or shooting.
The alleged victim Ronald Cross was found unharmed in a nearby camper, said Hunt.
The criminal complaint said when Barbara Cross was advised she was being arrested, she refused to comply, physically resisting, with officers using force to remove her from a porch.
UPDATE: 6/7/2019 - 2:48 AM - Law enforcement has advised 911 there was no victim, no shooting, stabbing, or attempted hanging of an alleged victim occurring on Pond Run, as a female caller earlier reported to 911.
The woman during 911 calls gave names of individuals that allegedly were involved in the affray.
Authorities have taken the woman into custody, likely to bring charges against her.
ORIGINAL STORY 6/7/2019 - 1:35 AM - Calhoun law enforcement responding to a 911 call to 632 Pond Run Road, off Stinson Road (Mud Fork) that a dispute between 3-4 individuals and a 56-year-old man was occurring.
The female caller told 911 that the individuals had a rope around the alleged victim's neck in the yard of the residence attempting to hang him in a tree.
She first reported to 911 there was stabbing and shooting occurring at the scene.
A further report said the man "had been shot a couple times."
Several minutes later the caller indicated there was more gunfire.
State Police and multiple officers from the Calhoun Sheriffs Department, along with Calhoun EMS, was responding to the scene.
Other law enforcement from the region is responding.