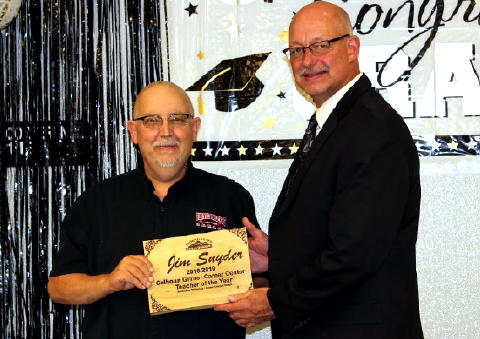 Jim Snyder has been named 2019 Teacher of the Year for the Calhoun-Gilmer Career Center. This year, Mr. Snyder will complete his 15th year of teaching. He has been the CGCC automotive technology instructor for 7 years and led the Busted Knuckle Garage simulated workplace for the last 2 years.
Throughout his career, Mr. Snyder has held different teaching positions. He has been a long term, Algebra substitute at Gilmer County High School and East Hoke Middle School in Raeford, NC. Also while at East Hoke Middle, Mr. Snyder taught basic computer applications for 4 years.
Mr. Snyder graduated from Glenville State College in 1990 a bachelor of arts in business management and accounting. Jim was owner and operated J & M Auto for several years with his dad, Mike. He has also worked as a commercial sales representative for Advanced Auto for 8 years.
Outside the classroom, Mr. Snyder is a member of Glenville First Baptist Church and a Gilmer County 4-H leader. Mr. Snyder resides in Gilmer County with his wife of 22 years, Kris Snyder and daughters, Kaylene, Daisy and Maggie.