By David Hedges, Publisher
The Times Record

Terri Marks wept silently as the details of the night her husband was murdered were recounted.

She sat on the front row in Roane Circuit Court Tuesday afternoon when Andrew Justin "A.J." King, 32. pled guilty to four felony charges, including second-degree murder for the death of Danny Marks, 56, a well-known Walton resident and business owner.

The plea agreement also included two counts of wanton endangerment and a charge of burglary. Because King has a prior felony conviction in Clay County, Roane prosecutor Josh Downey said the four charges could result in King being sentenced to 56-to-70 years in prison, if he receives the maximum on each charge.

Judge Anita Ashley asked King to explain what he did the night of July 25. 2018.

"I was standing on Malcolm Marks' porch and I heard gunfire," King told the judge. "I shot back to defend myself, which I thought was the right thing to do."

Malcolm Marks is Danny Marks' brother. King also said he fired into a vehicle that contained another brother, Frankie Marks, and Terri Paxton, but Downey and defense attorney Alan Pritt hastily offered a correction. Although King was charged with shooting into the vehicle, striking Paxton in the arm and leg. while outside the home of Frankie Marks. the charge in his plea involved shots King fired while on Malcolm Marks' porch, while Malcolm Marks and Teresa Miller were inside the home.

Regarding the burglary charge. King told Ashley that he and April Estep had entered Tom Wilson's home and taken some items. The charges allege King stole an ATV and guns from the Wilson residence.

Wilson reported the theft from his home on Mulberry Ridge, outside of Spencer, four days earlier. The shootings took place in the Walker Ridge area off U.S. 119, south of Walton.

Ashley asked King if everything in his statement was true, to which he answered "Yes, ma'am."

Downey said he offered the plea agreement after consulting with the victim's widow and police officers who worked on the case.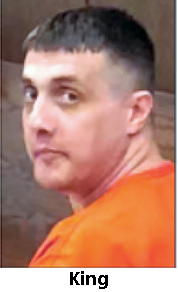 "We think it was a good plea," the prosecutor said. "It brings some closure to the family."
Pritt said his client could have been facing life in prison without parole, had he been convicted of first-degree murder.
King's trial was set to begin next week.
Although King said he fired his gun in self-defense, Downey said after the hearing investigators don't think the victim did anything wrong.
"We believe Mr. Marks may have fired one or two shots into the air," he said. We don't think this was self-defense (on King's part).
"Mr. King is the one who put himself in that position after fleeing from law enforcement earlier that day," Downey said. Police said they went to Walker Ridge looking for King in connection with the burglary after Estep's cellphone had been tracked to that location.
Estep had been arrested earlier that afternoon in Kanawha County but King had her phone.
As officers approached the Frankie Marks residence, they saw someone on an ATV fleeing.
King wrecked the ATV but managed to escape on foot.
Police looked for him for the next three hours without success.
Officers returned late that night after they heard King was on Malcolm Marks' porch.
While on their way from Spencer to Walton, they learned that shots were fired.
When they arrived they found Danny Marks on the ground next to his Jeep with a bullet wound to his forehead.
They spent the rest of the night looking for King, who was arrested the next morning in a wooded area not far from the shooting.
Downey said investigators believe the shot that struck Marks may have ricocheted off his Jeep.
Marks was armed with a 9 mm pistol, according to police testimony at a preliminary hearing.
Two spent 9 mm casings were found near the Jeep. police said, with more outside Frankie Marks' home.
The shot that killed Marks came from a .45 caliber pistol stolen from the Wilson residence, police said. Several spent .45 shell casings were found on Malcolm Marks' front porch, officers said.
Downey said Tuesday that police believe King was under the influence of meth at the time of the incident.
"That is not in any way an excuse, but it shows the impact that drug is having on our community," Downey said.
Ashley set a sentencing hearing for July 10.
King has been held in jail without bond since his arrest.