UPDATE 5/14/2019 - A Right Fork of Crummies Creek man, Billy Ray Hardway, 59, has been incarcerated again in Central Regional Jail, following a Calhoun arrest last week.

Hardway had been released from Central Regional Jail last week.

Sheriff Jeff Starcher has now charged Hardway with felony failure to appear, stemming from his failure to appear for court on May 14, 2019, and failure to report to the Calhoun County Sheriff's Office to be hooked up on home confinement, which was a stipulation of his bond.

He was arrested May 6 by the Sheriffs Department for possession of a controlled substance with intent to deliver.

His bond has been set at $25,000 cash only.

FOLLOWING SEARCH WARRANT HARDWAY ARRESTED ON DRUG CHARGES - Right Fork Of Crummies Creek (5/8/2019)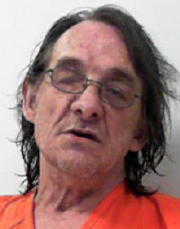 Calhoun Sheriff Jeff Starcher obtained a search warrant for the residence of Billy Ray Hardway on the Right Fork of Crummies Creek Monday.
A search of the residence revealed two sets of portable scales, pseudoephedrine pills, a bag of marijuana, individually packaged baggies of crystal methamphetamine, and approximately $172 in cash, among other drug paraphernalia.
Hardway was arrested and charged with possession of a controlled substance with intent to deliver. He was arraigned by Magistrate Lora Davis and transported to Central Regional Jail.
The Calhoun Sheriff's Department was assisted by the West Virginia State Police and West Virginia Natural Resources Police.
Bond has been set at $35,000.