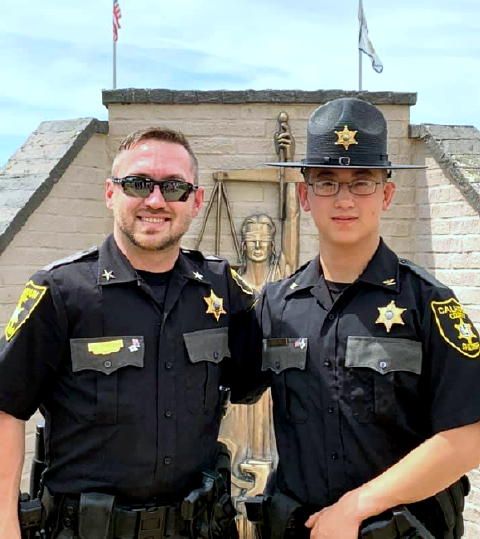 Calhoun County Sheriff, Jeff Starcher
(left) and Chief Deputy Jason Chang
Calhoun County Chief Deputy Jason Chang graduated from the West Virginia State Police Academy as a part of the 177th Basic Class Friday.
Chief Deputy Chang is the first officer sponsored by the Calhoun County Sheriff's Department to successfully attempt and complete the West Virginia State Academy in 11 years.
In the course of his training Chief Deputy Chang covered such topics as criminal and traffic law, search and seizure, firearms, defensive tactics, emergency vehicle operations, and endured a rigorous physical fitness program.
According to Sheriff Starcher, Chief Deputy Chang will return to duty on Monday, May 6, 2019.
"We would like to congratulate Jason for his hard work reaching this major milestone. We couldn't be more proud of him, as he has represented Calhoun County and the Calhoun County Sheriff's Office well," said Starcher.