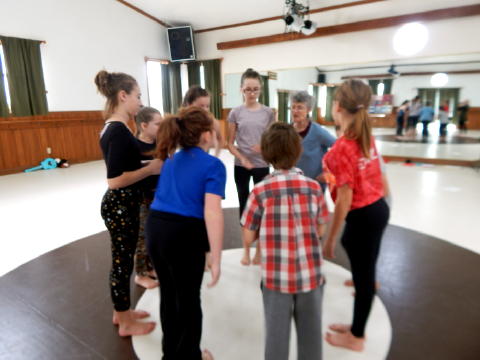 Students begin rehearsals for Eyes, Ears,
Legs, Arms with Artistic Director Jude Binder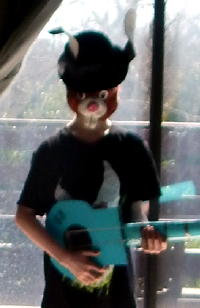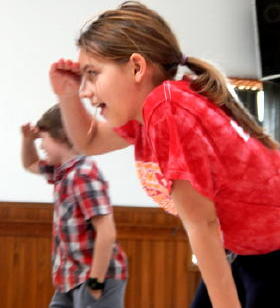 (L) The Rock Star Bunny, William Kerby, begins working on the
mask piece (R) Eliza Miller and Greyson Hill practice Zodiak
Mark Your Calendars Now! Heartwood in the Hills, Theatre Students are putting on a show for the general public on Thursday, June 6. Come join them at 6 p.m. at Heartwood for a fun filled time. Theatre students of Spring 2019 will present "Eyes, Ears, Legs and Arms", a hilarious, fantastical play, as well as entertain you with a magical Mask parade and more.
The students have been working all spring to present this event in conjunction with this years' Calhoun County Wood Festival. No admission but donations for the non-profit school for the arts will be appreciated.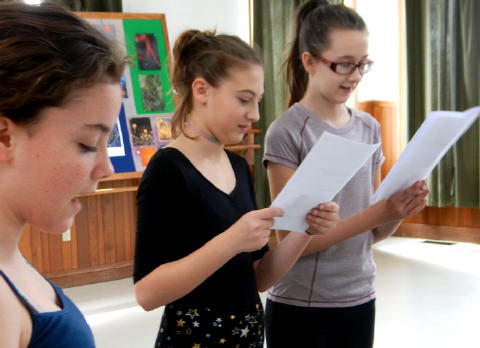 Tessa Slider, Chloe James and Abigail
Ackley in a read through of the play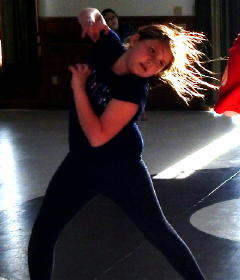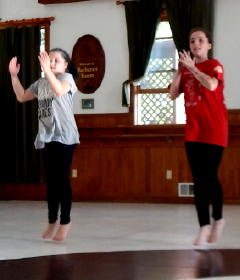 (L) Chloe Capel (R) Gerri Kerby and Tessa Slider
Also, Heartwood Alumni Ballet dancers will present "The Salutation" a salute to the community, on Saturday, June 8, at the conclusion of the Wood Festival parade in front of the courthouse in Grantsville.
"Eyes, Ears, Legs and Arms" will also be performed for students family and friends at a Showcase of Spring Work from the Spring 2019 Program of Classes on Thursday, May 30.
Members of the Theatre Team include, Abigail Ackley, Kyra Ackley, Chloe Capell, Greyson Hill, Chloe James, Gerri Kerby, William Kerby, Eliza Miller and Tessa Slider.
Heartwood in the Hills is located on Broomstick Road off Route 16 north of Grantsville.
Heartwood is a non- profit school for the arts offering after school and evening classes for children, teens, adults and seniors.