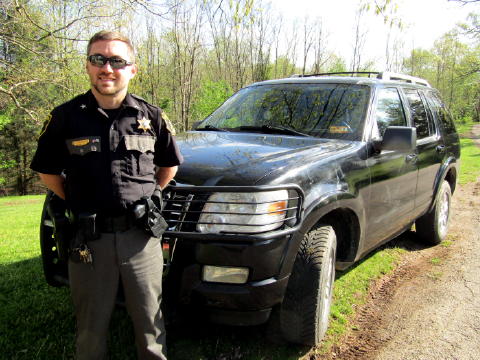 Sheriff Jeff Starcher with "new" $1.00 cruiser
In response to an extremely tight budget, and frequent maintenance and repairs of the aging vehicle fleet of the Calhoun County Sheriff's Department, Sheriff Jeff Starcher has recently acquired another cruiser, a 2010 Ford Explorer, from the Buckhannon Police Department.
Sheriff Starcher said, "I was able to locate this cruiser with assistance from Rhett Dusenbury, our local representative with Congressman Alex Mooney's office. We were able to purchase this cruiser from the City of Buckhannon for only $1.00."
Sheriff Starcher said that the cruiser had relatively low mileage when purchased. Since the vehicle was already partially equipped, he continued that his office was able to equip the vehicle "at minimal expense to the county."
"I am grateful that Mr. Dusenbury took note of issues that we were experiencing with our current fleet of cruisers and assisted us in locating this vehicle.", Starcher said.
He also said that the cruiser was originally black and white in color, and the vehicle was painted solid black by Butch Ford at Ford's Auto Body. "This cruiser is the third vehicle that they've painted for us, and they've donated the costs and labor of all of these projects, in response to our budget woes."
"We couldn't be more grateful," he added.