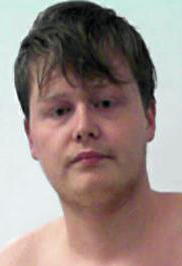 A Braxton County man has been arrested and incarcerated, charged with making terrorist threats, according to Lt. T. V. Flint.

Cody William Brown, 25, of Sutton, has also been charged with wanton endangerment and is being held in Central Regional Jail with $100,000 cash only bond.

Brown appeared in Braxton Magistrate Court on previous charges and was asked to relinquish all his firearms to law enforcement. While family members were turning over the firearms, Brown commented before the court that he had some firearms buried, indicating law enforcement would not get them all, according to the criminal complaint.

After leaving the court house complex in Sutton, officials heard a number of gunshots nearby, Brown's residence, and 911 received a call about gunfire.

Police arrived shortly at the residence, asking Brown's grandmother to have him come outside.

The criminal complaint says Brown exited the back door of the trailer and was taken into custody by officers without incident.

A search found two handguns, an AR-15 modified to use a bump stock, and a large quantity of ammo and ammo magazines.

The complaint said a search of Brown's social media account discovered him saying, "Deare liberal government, plese understasnd you can't disarm the disarmable."