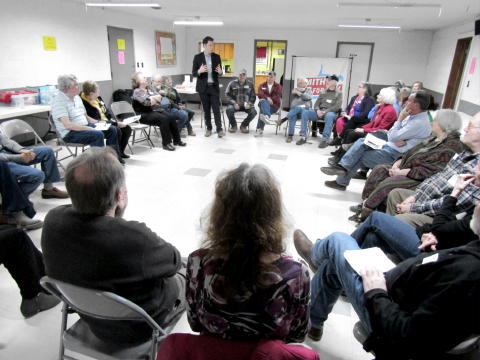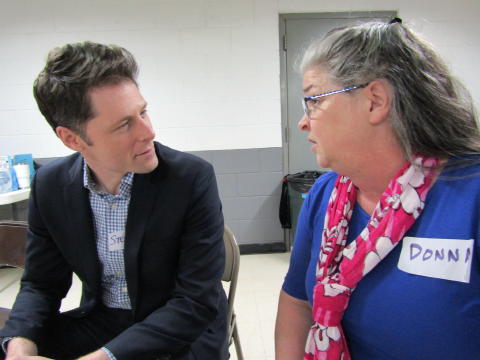 Candidate brings listening campaign to Calhoun
By Bob Weaver
2020 Democrat Gubernatorial candidate Stephen Smith is a West Virginia enigma, more often than not remaining in the background, working for state residents with the WV Healthy Kids and Families Coalition, responsible for major legislation and keeping state politicians honest.
His grass roots campaign "We Can't Wait," came to Calhoun Sunday with an open ear, perhaps one of few candidates and certainly few governors that has no ties to the coal, natural gas and corporate industries.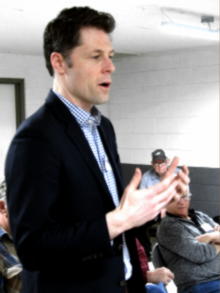 A recent Wall Street Journal story lamented that the Mountain State is near the bottom on most USA lists essentially because the state refuses to diversify.
Smith met with about 50 Calhoun county residents to record their concerns, currently on a 55 county trek with his grass roots campaign.
Born in Charleston and spending nine years in the Mountain State before his parents relocated the family to Texas. His dad worked for nonprofits, and his mom made their home a place constantly filled with "extra people" - kids from the neighborhood, family members between jobs, foster children.
Smith went off to Harvard, where he studied sociology, but when he and wife Sara decided to start a family, "We wanted to live in a place that cares more about who you love and who you serve than what you own," Smith says. Returning to the Mountain State was a natural choice.
Under Smith's West Virginia Healthy Kids and Families Coalition, founded a decade earlier by the West Virginia Council of Churches to support the creation of a Children's Health Insurance Program in West Virginia, his team's list of success is long.
The group shifted its focus to getting children enrolled in that program while also advocating for the program's expansion to include oral care and prenatal care.
Smith says that while health care is politically polarized, the health and well-being of real West Virginians, adults and children, should not be.
Under Smith's leadership, the coalition launched several initiatives aimed at making West Virginia a healthier place, handing out more than 300 mini-grants across the state. Communities have used the grant money to start community gardens in Boone County, create walking trails in Hamlin, build boat ramps for kayakers in Morgantown, make Matewan a more bike-friendly town, and organize healthy cooking classes for kids and families in White Sulphur Springs.
This group is made up of more than 150 churches, community groups, unions, and other partner organizations across the state. The group has scored 28 legislative victories to date. These include raising West Virginia's minimum wage and pushing lawmakers to pass the Feed to Achieve Act, which made it easier for county school systems to use federal funds to make school breakfast and lunch free to all students in high-need districts. "We now have the strongest breakfast program in the country," Smith says.
Governor Earl Ray Tomblin's proposed budget would have cut $1 million in services for children. The group put together a report showing how much damage the cuts would do and brought its membership to the Capitol to lobby lawmakers face to face.
The Legislature restored the funding-only for Tomblin to cut the funding again using a line-item veto. But when the governor called the Legislature back for an unrelated special session, Our Children Our Future again rallied at the Capitol and got lawmakers to add the funding back to the budget. This time, Tomblin signed it into law.
"Beware of West Virginians who are united in a fight for their kids," Smith says.
Organizing under Smith for West Virginia, the campaign also has another tagline: "WV Can't Wait." And waiting is something Smith isn't doing.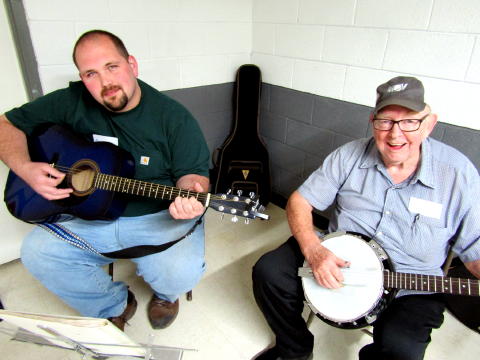 A little Calhoun Mountain Music was a highlight of the event