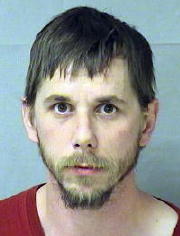 Authorities have arrested Scott Hartshorn, 33, of Chloe, Calhoun County with Parkersburg area residents and a Fayette County man after a sting operation involving Parkersburg Police and investigators with the national Internet Crimes Against Children task force.

Hartshorn and the other individuals were charged with solicitation of a minor. He is being held on $200,000 bond in North Central Regional Jail.



Also arrested:

- Stephen P. Tyler, 36, of Parkersburg
- Randall F. Shepherd, 41, of Parkersburg
- Roger D. Roush, 49, Vienna
- Brian M. Mason, 41 of Mt. Hope

Authorities also arrested Ryan S. Kibble, 38, of Parkersburg, and Thomas W. Parks, Jr., 38, of Reedsville. They're being held at the South Central Regional Jail on charges related to the investigation.