UPDATE - Jimmy Jack Vandal, formerly of Calhoun, could be facing more charges after allegedly leading authorities on a pursuit across state lines.

Vandal faces at least 4 felony charges in Wood County. They include 2 counts of fleeing from an officer in a reckless vehicle, bringing into the state receiving or disposing of property stolen in another state, and fleeing from an officer in a reckless vehicle.

Those charges stem from a pursuit that happened last Saturday. Troopers with the Ohio State Highway Patrol say it started around 3:20 p.m. when a stolen truck and trailer were spotted on the southbound lanes of State Route 7 near mile post 12 in Washington County.

Troopers tried to stop the vehicle but it did not and a pursuit ensued. The chase crossed the Belpre Bridge into Wood County. It ended on Humble Heights Road.

Officers say more charges for Vandal could be pending in Washington County.

Vandal was given a $202,500 cash bond. He's sitting in the North Central Regional Jail.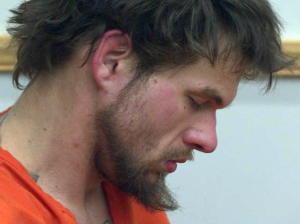 Jimmy Jack Vandal - Photo courtesy of WTAP
3/3/2019 - A former Calhoun man was arraigned Saturday night after allegedly leading police on a pursuit Saturday afternoon.
Jimmy Jack Vandal, 30, was arraigned in Wood County Magistrate Court on a $200,000 bond.
He faces three felony charges: possession of a stolen vehicle, bringing stolen property into the state of West Virginia from Ohio, and reckless disregard.
Parkersburg Police Chief Joseph Martin said Vandal stole a vehicle and box trailer in Belpre and then led authorities on a pursuit.
He was apprehended, after a short foot chase ended on Staunton Turnpike and Humble Heights Road in Wood County.
Vandal was charged with wanton endangerment in Wood County in 2018.