Calhoun Schools is getting a PRO-officer to increase security.

Calhoun County School COO Michael Fitzwater and Jeannie Bennett has worked with Calhoun County Commissioners and Sheriff Jeff Starcher to secure a grant for a PRO-Officer to be placed at Calhoun Middle/High School.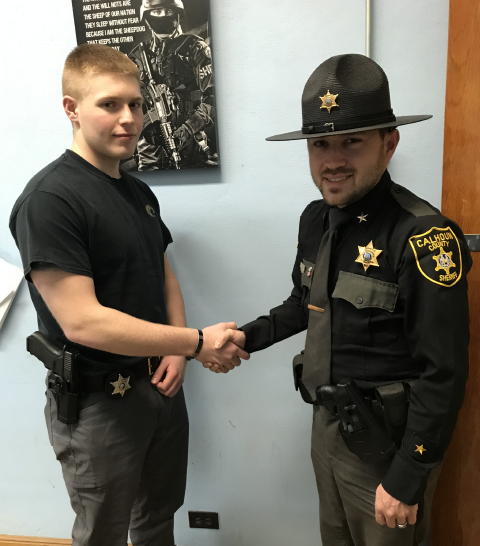 Sheriff Jeff Starcher welcomes
Raines as new CM-HS PRO officer
"We are very excited about providing an additional level of security at CMHS. The PRO-Officer will also be providing education to students and staff," said Superintedent Kelli Whytsell.
Sheriff Jeff Starcher has announced that Wiley Tyler Raines is the new Deputy Sheriff and Prevention Resource Officer.
Raines, who is formerly from Georgia, is a graduate of Tucker County High School, and Glenville State College, having graduated from Glenville State College with Chief Deputy Jason Chang. He is also a graduate of the West Virginia State Police Academy.
Deputy Raines is a certified law enforcement officer, having previously worked for Fairmont Police Department. He is also a member of the Army Reserves. He is now a resident of Calhoun County, residing at Cabot Station.
Sheriff Starcher said, "The implementation of a school [prevention] resource officer for Calhoun County Schools is a major milestone for Calhoun County."
He stated that having a prevention resource officer will decrease the number of school-related calls that the Sheriff's Department and West Virginia State Police are called to, and promote a safer environment for children.
Deputy Raines has been in the orientation process this week, and is expected to begin fulfilling his duties as prevention resource officer next week, after receiving training from a liaison of the West Virginia Division of Justice and Community Services.
Efforts to place a PRO officer at Calhoun Middle-High School failed a few years ago because the county commission could not come up with significant funds to match the PRO grant.
Meanwhile, in Charleston, the Omnibus Education Bill still includes funding to place an officer in all West Virginia schools at a cost of $40 million dollars.
The Omnibus bill, following dozens of changes and amendments, now rests in the WV Senate.