UPDATE 2/20/2019 - - The West Virginia State Fire Marshal's Office says a man has been arrested on first-degree arson charges in connection with a fire set to a garage owned by his ex-girlfriend.

WVSFMO investigators say, Randy Allen Bartram, 41, of Smithville, set a fire that damaged a two-car garage on Hazel Green Road in Smithville on January 13th, 2019.

According to investigators, two different witnesses said Bartram had talked to them about setting fire to his estranged girlfriend's property, just an hour before the fire occurred. Bartram further asked for a ride to where his ex-girlfriend was staying and made threats there.

The WVSFMO says Bartram was arrested on February 13th, 2019, and is currently in the North Central Regional Jail.

They say he is likely facing future charges as the investigation continues.

This arrest resulted from a combined effort by WVSFMO investigators and West Virginia State Police.

2/16/2019 - A Smithville man has been arrested after allegedly setting fire to a car and threatening to burn down other structures.

According to a criminal complaint, officers responded near Hazelgreen Road Wednesday after a car on fire was reported.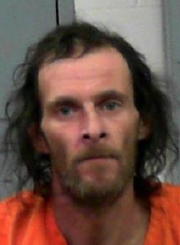 While on their way, the officers were told that the suspect, Randy Bartram, 41 (left) might be armed with a knife. A witness told officials that Bartram had threatened to set fire to other structures in the area and kill the people inside.
Officials said when they arrived, a Pontiac Firebird was on fire as well as the garage behind it. They said Bartram was on the porch of a nearby home. Officers asked Bartrum to remove his hands from pockets and he refused. When asked, the officers told Bartram they were there because of the fire.
Officials said Bartram then told the officers that, "The voices made me do it."
After refusing to remove his hands from his overall pocket, an officer threatened to use a Taser on him. Officials said the first time using the Taser had no effect on Bartram, and Bartram jumped from the porch to the ground. The Taser was used a second time and was effective.
When taking Bartram into custody, officers found needles, other drug paraphernalia and a pack of raw bacon on him.
He was medically evaluated and taken to North Central Regional Jail.
He is charged with first-degree arson.