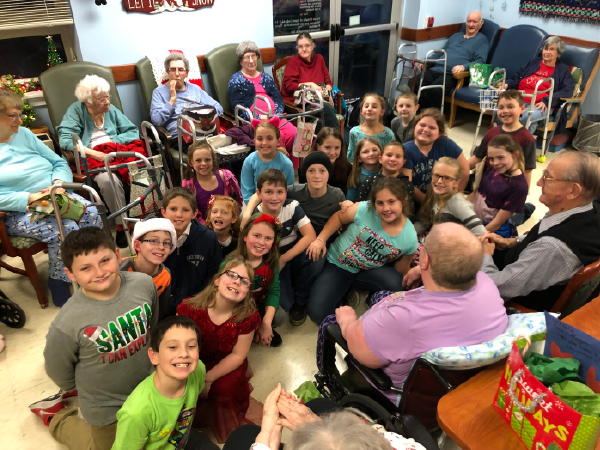 AES 4th grade students visit Minnie Hamilton Long Term Care Unit
During the month of December, students in 4th grade at Arnoldsburg Elementary School, learned the importance of giving during the holidays.
One of the highlights and a favorite among students and staff was the annual trip to Minnie Hamilton Long Term Care Unit. Students brought in hygiene and personal items and made gift bags for each of the 24 residents. On December 13th, about 20 students delivered the presents, sang Christmas carols, and visited with the elderly.
Miss Sampson's class also incorporated the spirit of Christmas by reading books about giving and engaging in random acts of kindness. Students have listened to several books during Read Aloud including; The Wish Tree, The Poky Little Puppy's First Christmas and The Berenstain Bears and the Joy of Giving. Their random acts of kindness were completed each day after a read aloud.
Some of the acts that have been completed are placing candy canes on car windows in the parking lot, making Christmas cards for the school staff, cutting unique and special snowflakes to give to other students, and preparing a basket of cozy socks for the volunteers who helped with Santa's Workshop.
Another highlight of the month was making and sending Christmas cards to a little boy named Lewis Bryant from Point Pleasant, WV. Lewis has been diagnosed with an aggressive form of cancer, stage 4 osteosarcoma, bone cancer. Not only did the class send cards but they also sent a remote-control car, a toboggan, and a Batman shirt. Lewis was thinking he would get around 5 cards, but by the end of December he had received over 4,000 cards.