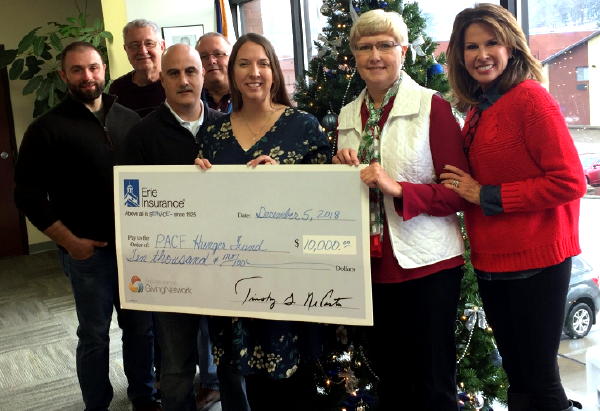 Representatives from Erie Insurance present a check for $10,000 to the Parkersburg Area Community Foundation (L-R) Ben Rucker, Dan Hurley, Jay Simon, Greg Hoffman, Julie Posey - PACF, Kam Lawson, and Carolyn Reger
A recent donation from Erie InsuranceĀ® to the Parkersburg Area Community Foundation (PACF) will help boost the region's "Hunger Fund" that provides a permanent and dedicated source of monies from which grants can be made to support our communities' backpack feeding programs, summer and after-school feeding programs, and other related needs for children, senior citizens, and other vulnerable populations.
"Food insecurity is a significant issue regionally; too many individuals and families experience hunger," said Judy Sjostedt, the PACF's Executive Director. "Our area's data shows a great need to improve the Foundation's grant resources, so we can better meet essential human needs and improve family and economic stability to relieve conditions of poverty. Our broad service area's overall poverty rates exceed the West Virginia State average and are well beyond the national rate, but statistics for children under 18 are even more compelling. Looking at the seven counties for which the PACF is the only community foundation funder -- Calhoun, Doddridge, Gilmer, Ritchie, Roane, Wirt, and Wood - poverty rates in five far exceed the State's rate for young children."
Created a year ago, The PACF's Hunger Fund began with generous support from many donors in response to a challenge grant from the Ketelsen family. In addition to building this important charitable fund, the PACF has held partnership meetings since 2016 with the various area organizations working to address this need, to help identify gaps in service and new resources, and identify ways in which its leadership can be applied to address this critical community issue.
"This gift to the PACF is to build the Foundation's permanent charitable fund specifically to help address hunger-related projects in our communities," said Kam Lawson, Erie Insurance's West Virginia Sr. Business Support Specialist. "We are honored to support the Foundation with this initiative and thankful to know that more individuals experiencing hunger can be helped through this Fund"
To support the PACF's regional Hunger Fund, mail a check (made payable to PACF, with "Hunger Fund" on memo line) to the Parkersburg Area Community Foundation, PO Box 1762, Parkersburg, WV 26101. Or give online at www.pacfwv.com/donate