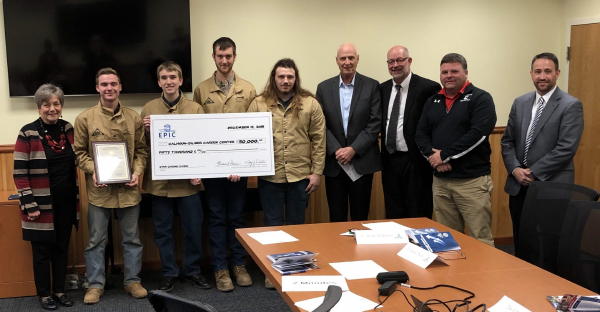 L-R - Dr. Kathy D'Antoni, Jesse Kargol, Thomas DeVres, Benjamin Knotts
Logan Greenleaf, Donnie Pitts, Bryan Sterns, Paul Parsons and Clinton Burch
Calhoun Gilmer Construction, a Calhoun Gilmer Career Center Simulated Workplace, has been awarded $50,000 dollars by the Governor's Economic Initiative in conjunction with the West Virginia State Department of Education.
The EPIC (Economic Projects Impacting Communities) Competition "Â…magnifies the Simulated Workplace Company's collaborative and creative abilities into a showcase of technical skills through developing, designing and constructing an innovative community impact project for public, private, commercial, or residential use."
Building Construction instructor, Paul Parsons and his students submitted a proposal titled, "The Star Gazing Cabin" to the competition. Their proposal outlined a cabin to be located at the Calhoun County Park. The cabin will feature a stargazing room with a retractable roof to allow those staying a clear view of the night sky.
The cabin will be equipped with a full functioning kitchen, bedroom and bathroom. There will also be a loft that will sleep four people. At the cabin site, there will be three camper/RV connections. This cabin will help meet the needs of the park, while also creating revenue for the community.
Five simulated workplace team finalists were chosen and traveled to Charleston to present their concepts to the State Board of Education and individuals from the EPIC committee. After the presentations were complete, an announcement was made that all five finalists were chosen to receive $50,000 to fund their projects.
"The EPIC Competition will be completed over the next two school years and will require partnering with local businesses and other community organizations. The goal of the competition is to enhance students' technical skills and creativity while making an impact within their local community."