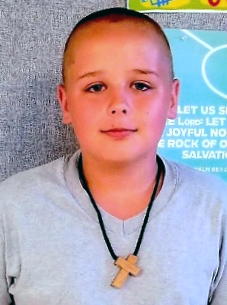 UPDATE - Three Roane County residents who were part of a carbon monoxide poisoning Monday remain hospitalized in Pittsburgh Wednesday.

Corey Carper, 10, of Looneyville, died in the incident.

His parents, Christopher and Amanda Cooper, along with friend Elijah Armstead, 10 of Newton, are still hospitalized, reportedly improving.

The family felt sick Monday at their home near Looneyville and thought they had a case of the flu, a common response when people are overcome by carbon monoxide.

Victims report they know something bad is happening, but thinking becomes distorted.

His funeral service will be conducted at 2:00 p.m. Sunday, December 23 at Faith Baptist Church, Spencer, with Pastor Justin Simmons officiating. Burial will be in the J. Herbert Smith, Sr. Cemetery, Vineyard Ridge, Looneyville. John H. Taylor Funeral Home of Spencer.

See complete obituary Cory Colton Keith Carper

Dec. 18, 2018 - A 10-year-old Roane County boy Corey Carper died Monday evening from apparent carbon monoxide poisoning, and three other people were taken to the hospital, according to the Roane County Sheriff's Department.

Funeral arrangements are being completed at the John H. Taylor Funeral Home is Spencer.

It happened around 5 p.m. along Little Lefthand Road in Looneyville, deputies say.

The Sheriffs Department says three victims were transported to the hospital, explaining that all indications point to a carbon monoxide leak in the home. A boy who was the friend of the victim was also overcome.

A man and woman, along with another child, appear to be doing OK, being sent to a Pittsburgh center.

The child who died was pronounced dead at the home.

Firefighters believe an old furnace not working properly is to blame for the leak.

The sheriff says the boy who died was a student at Geary Elementary School. Carper's principal says "He had a million dollar smile."

Investigators say that Corey's entire family stayed home Monday because they thought they had a bad case of the flu.

Every school counselor in Roane County was on hand at Geary School Tuesday, meeting with the two fifth grade classes and anyone else who wanted to talk.

Investigators said there was no carbon monoxide detector inside the home.