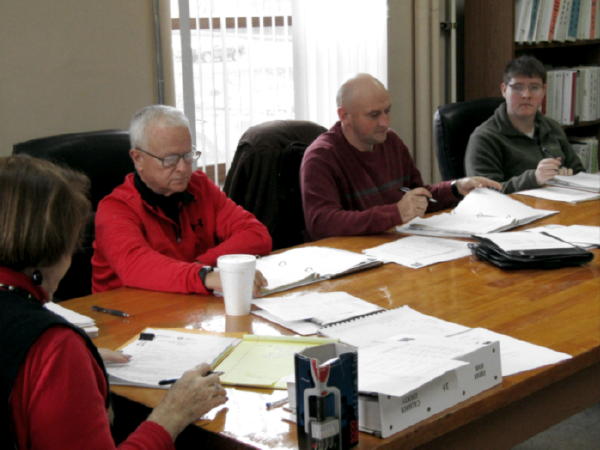 CALHOUN COMMISSION MEETS (L to R) Clerk Jean Simers, Commissioner Chip Westfall, Commission President Kevin Helmick, and Commissioner Michael Hicks
By Bob Weaver
The Calhoun Commission is officially requesting an audit and investigation of Calhoun Homes from federal Housing and Urban Development, who primarily finances the public housing facility at Mt. Zion.
The commissioners included in the request to clarify why Calhoun Homes should be exempt from the Freedom of Information Act.
Commission president Kevin Helmick said he had received numerous complaints about the management of the facility, particularly since at least seven residents were given short notice to vacate their apartments at the end of October because of high readings of meth residue.
Helmick said manager Michelle Smith had advised she would be at Monday's commission meeting, but she did not appear. "I had a list of questions to ask her, which could have been helpful," he said.
Ashley Admire and Megan Hartz, displaced residents because of the meth problem, told commissioners of numerous problems they have experienced.
Admire said it had been a problem getting the readings about meth contamination. She expressed concern over her electric bill, which was higher than it had ever been while living there.
Hartz said at least seven families were displaced, including hers, saying all of her belongings were destroyed because of the meth residue as she sought temporary housing.
Other residents were given a 5-day-notice to vacate, they being responsible for their housing, many of them single-parenting mothers. Some moving their belongings to other locations, while others belongings were stored in a box trailer.
Residents were advised that the meth clean-up would take 1 1/2 weeks, but six weeks have passed, although it appears that some residents have been advised they can return.
The commission unanimously approved the request to HUD asking for an audit and investigation.
READ EARLIER STORY: METH RESIDUE CHILLING REVELATION AT CALHOUN HOMES - Manager Denies Public Information Requests, Hearing Monday Before Calhoun Commission
In other business, Commissioner Hicks expressed concern that Calhoun EMS would likely run out of funding before the end of the fiscal year, primarily because new levy monies are not available until then.
Commissioner Helmick said the county will reluctantly dip into its Rainy Day Fund to keep the service going.
911/OES Director Julie Sears said the newly appointed EMS Director Doug Conrad has resigned, and she is temporarily managing the operation for the Calhoun EMS Board of Directors.
The commission approved the rental of space to a workforce office related to flood relief. Information was sketchy on $2 million dollars being allocated the county for flood clean-up through HRDF and prevent future flooding, a program that could hire 8-10 workers with additional supervisor positions.
Commissioner Helmick expressed concern about an issue related to the grant funds paying for a PRO officer (policeman) at Calhoun Middle-High School. Calhoun School's treasurer Andrew Metheney said he would look into the matter.
Helmick also said the county had yet to receive $240,000 Appalachian Regional Commission for "Dark Skies" projects at Calhoun Park.
He said he attended a photo-op in November, 2017, regarding the award, but the commission has been unable to obtain a satisfactory answer about what happened to the money. "The county has had matching money in place for over a year," he said.
The commission has moved ahead in supporting a County Comprehensive Plan.
The commission approved to purchase a number of used voting machines from Jackson County for $2,000. County Clerk Jean Simers said the machines would augment the county's current machines, which are aging.
Speaking under delegations, Tom Ullum complained about the pro-rating of water bills being unfair, and that Calhoun Prosecutor Shannon Johnson was not having her secretary work eight-hours a day like other elected officials.
Commissioner Westfall said the county could set the hours the courthouse is open, not how elected officials run their offices and had no authority over PSDs rate setting.
Commissioners approved the resignation of Seth Uldrich and the hiring of C. J. Myers as Home Confinement Officer, and the reclassification of Jason Chang as Chief Deputy.