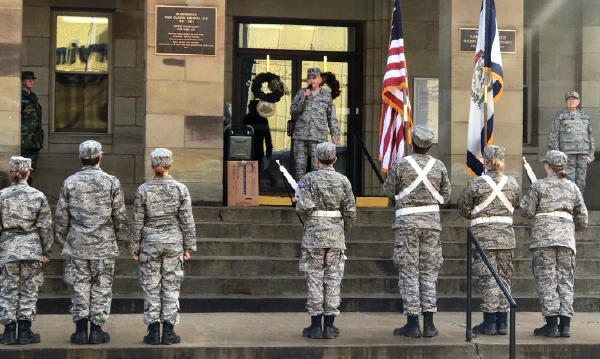 Cadets and Color Guard prepare to Present the Colors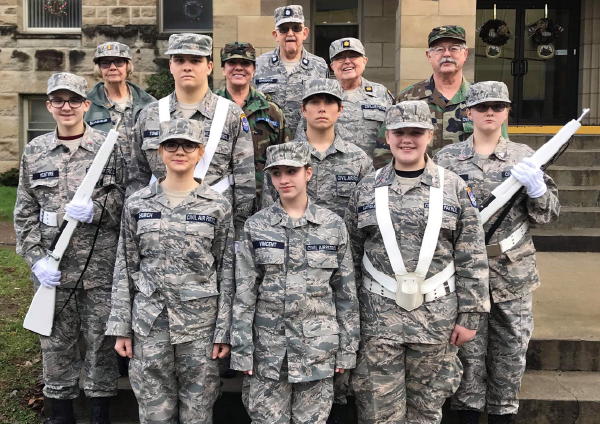 (Front L-R) Kinlea Church, Grace Vincent, Jocey Cutshall
(2nd Row (L-R) Clayton McIntyre, Bradyn Toney, Af Lane,
Kameryn Toney (3rd Row L-R) Jackie Blankenship, Lainey Moore,
Donna Umstead, Roscoe "Cokey" Gainer (Back L-R) Col. Lewis
Craddock (not pictured are Pam Gainer and Chris Keith)
Submitted by Jacqueline Blankenship
The Calhoun Composite Squadron WV-016 of the Civil Air Patrol, participated in the Wreaths Across America Ceremony on December 15th. There were 7 senior members participating and 7 cadets. The Squadron was honored to have 4 Veterans that placed the wreath of their branch of service at the memorial. There were several other Veterans in attendance as well as others viewing the ceremony.
The Cadet Color Guard presented the Colors and Lt. Col Lewis Craddock made opening remarks.
Wreaths were placed representing the Army; Marines; Navy; Air Force; Coast Guard; Merchant Marines - Music for each different branch of the service was played during the placement of the wreath at the memorial. In addition to the 4 veterans participating by placing the wreath of their branch of service on the memorial, 3 of the Squadron Cadets also participated in the placement of wreaths.
See WREATHS ACROSS AMERICA CEREMONY SATURDAY IN GRANTSVILLE
At the closing of the ceremony the Colors were retired and TAPS was played.
Senior members participants included were, Col. Lewis Craddock, Major Donna Umstead, 2nd Lt. Chris Keith, 2nd Lt. Roscoe Gainer, 2nd Lt. Pam Gainer, 2nd Lt. Jacqueline Blankenship, and senior member Elaine Moore.
Color Guard Cadets included, Airmen 1st Class: Bradyn Toney, Kameryn Toney and Clayton McIntyre. Cadets placing wreaths were Airman Kinlea Church, and Cadets Adam Lane and Grace Vincent.
After the ceremony the Civil Air Patrol Van transported cadets and senior members to various cemeteries in Calhoun County as well as surrounding counties to place wreaths on veterans grave sites.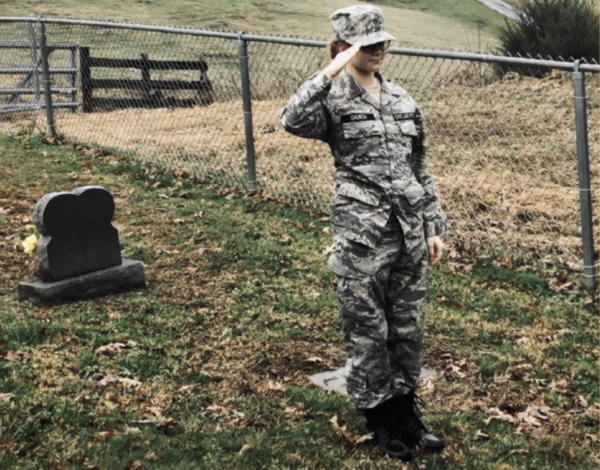 Cadet Airman Kinlea Church placing wreath on veteran grave