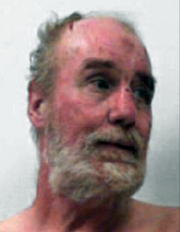 The Calhoun Sheriffs Department responded Monday afternoon to a well-being check on a man on Lower Nicut Roane.

The sheriffs' department summoned Calhoun EMS to transport David Oscar Thomas, 58, to a facility for evaluation and treatment.

During the process, the man reportedly become aggressive toward officers and was taken into custody.

According to the criminal complaint, the officers observed Thomas to smell of a strong odor of alcohol and was extremely intoxicated.

When the officers entered the residence, Thomas advised them that he was going to take their guns multiple times.

David Thomas then "balled up his fists" and made an aggressive movement towards Officer C. J. Myers in a fighting stance. Sheriff Starcher brought David Thomas under control using physical force and OC pepper spray.

He was charged with assault on an officer and obstructing an officer. He was arraigned by Magistrate Lora Davis with bond set at $5,000 cash only. He is in Central Regional Jail.