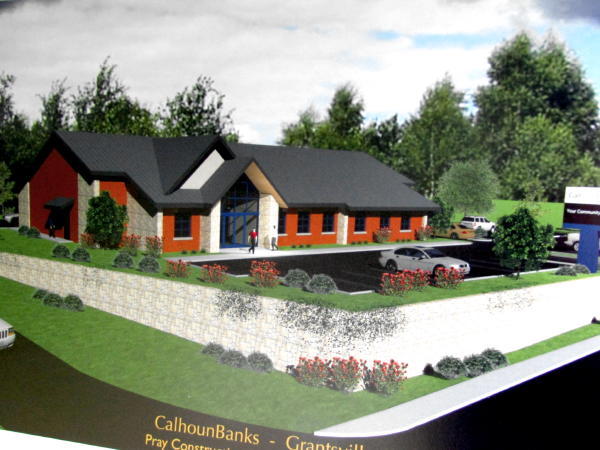 Calhoun Banks will be cutting the ribbon on its new, 8,000 square foot bank in Grantsville, WV., on Monday December 17, 2018. The ceremony will begin at 8:15 AM with an Opening Day Celebration with refreshments continuing the entire day.
In 2015, the board of directors assessed their current location to determine its suitability as a bank. With the assistance of design-builder, Pray Construction, and architect, Jerry Goff, Calhoun Banks studied the layout of their downtown bank and drive through.
It was quickly evident that a new branch and drive through would be a vast improvement in accessibility for customers, as well as the efficiency of space and energy. Renovation of the existing space would not solve the significant issues inherent in the original location. A new structure offered a cost savings operationally and would be a sound financial decision.
The site, just outside of town, was selected. The old elementary school was removed, and a stone monument was erected to honor the old structure. In June of 2018, we broke ground on the new bank.
The day's program will include a flag raising ceremony led by the local civil air patrol and remarks by Jim Bennett, Chairman of the Board, and Martha Haymaker, Bank President and CEO.
There will be a special announcement by the city's mayor, Ron Blankenship, and Martha Haymaker. Others included on the program are Sally Cline, the Executive Director of the WV Bankers Association, Pray Construction Company and Jerry Goff Architects.
The new main branch and drive-thru will provide Calhoun Banks and its customers a comfortable, energy-efficient, easily accessible facility, offering a significant improvement to the Grantsville area.