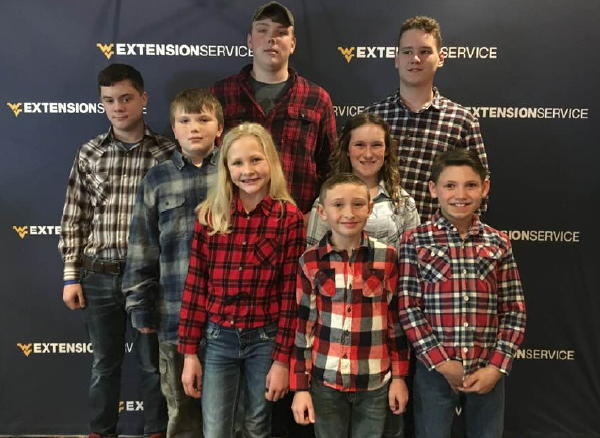 Front (L-R) Lexi Mitchell, Wyatt Brabham, Garrett
Brabham Middle (L-R) Dawson Shouldis, Gwen Ward
Back (L-R): Joel Hofstad, Lucas Shouldis, and Levi Webb
Submitted by Brandy Brabham
WVU-Roane Co. Extension Agent
Eight Roane County 4-H members were among 144 youth who participated in the 2018 WV Youth Beef Quiz Bowl on November 30th, at the West Virginia Cattlemen's Association's annual meeting at Stonewall Resort in Roanoake, WV.
Roane County 4-H had two, four-person, junior division teams.
Junior Team A, who placed fourth in the state contest, members were Lucas Shouldis, Dawson Shouldis Webb, and Joel Hofstad. Junior Team B members were Garrett Brabham, Wyatt Brabham, Gwen Ward, and Lexi Mitchell. Roane County 4-H members were trained by the WVU-Roane County agricultural and natural resources Extension Agent, Brandy Brabham, with assistance from 4-H Extension Agent Shannon Cottrill and 4-H volunteer Tracy Ward.
Monroe County 4-H placed first, Greenbrier 4-H placed second, and Braxton 4-H placed third in the junior division contest. The top four teams in each division were provided certificates and monetary awards including $400 for first place, $300 for second place, $200 for third place, and $100 for fourth place.
The youth practiced three times a week for four weeks. Study materials included beef cattle industry information on production, marketing, health, reproduction, nutrition, genetic traits, and conformation of beef cattle. Resources reviewed included sample beef quiz bowl questions, 4-H beef project books, 4-H beef handbooks, and industry publications.
For more information about this youth agricultural contest or other youth state activities and contests supported by the WVU Extension Service, contact the WVU-Roane County Extension office at 304-927-0975.