By David Hedges, Publisher
www.thetimesrecord.net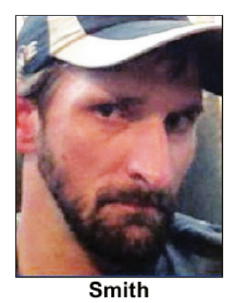 A suspect arrested last week for the murder of a Spencer man had just spent a week in jail for assaulting a woman.
Michael John Smith, 37, of 35 Lynn St. was arrested shortly after 5 p.m. Thanks-giving Day at the Spencer Go-Mart by U.S. Marshals, Roane Sheriff's deputies and State Police.
He is charged with the murder of James Lee Hall, 36, of Spencer, who lived in a cellar at 4130 Ripley Road.
Police have not released a motive for the killing.
Another man, Jimi Gates, lived in a different building on the property, after his home burned in March, four days after another suspicious fire occurred at the home of his mother, Cathy Flashman, on Peniel Road.
It was Flashman who found Hall's body on Sunday afternoon, Nov. 18, and called police.
The body was in the top portion of a wood built cellar, according to the criminal complaint filed by State Police.
Officers found Hall on the floor, with a laceration to the right side of his head and right arm. Sources said he had been shot at least once, which caused his death.
The officers found loaded shells on the steps leading to the porch of the cellar and a spent shell casing under the steps.
During their investigation, police spoke with a man who told them he was present during the altercation that led to Hall's death.
Alex Tawney allegedly told police he and Smith went to the victim's home, where Tawney said he stayed in the vehicle while Smith walked down to the residence.
Tawney told police he heard what sounded like someone beating on the door and gunshots being fired. He said Smith returned to the vehicle, a green Chevy Blazer, threw something in the back and drove away.
Tawney said Smith told him he had killed Hall and warned Tawney if he told anyone he would kill Tawney and his family.
Tawney also told police he had buried an ax under a porch after being told to do so by Smith.
Following his arrest three days later, Smith was arraigned by Roane Magistrate Ron White and lodged in the regional jail without bond. In cases of murder, bond can only be set in circuit court.
Smith indicated he wanted a preliminary hearing and an attorney was being appointed to represent him.
The day after the murder, Smith had appeared in magistrate court on other charges. Those charges, filed by the Spencer Police Dept, allege Smith and two other men went to the High Street residence of a woman with two small children around I a.m. on Oct 13, where Smith threatened her with a firearm.
Smith was charged with assault, brandishing a deadly weapon and trespassing with a firearm and held in the regional jail from Nov. 8 until his release on Nov. 14.
At a hearing Nov. 20, two days after the murder, he pled no contest to the assault charge and the other charges were dismissed.
He was sentenced to the seven days he had already served and ordered to pay court costs.
Smith was indicted in 2012 on a charge of attempted murder for allegedly shoving his girlfriend off a bridge in Reedy.
Smith claimed he was actually reaching out to catch his girlfriend who was distraught after losing custody of her children. Police said she suffered permanent injuries to her back after landing on rocks below the bridge and was not taken to the hospital for three days. Police also said Smith refused to help the woman until she told him she loved him.
He pled to a misdemeanor charge of domestic battery-2nd offense and was sentenced by Roane Circuit Judge David Nibert to 240 days in jail, with credit for 187 days served.
The fires at the Gates' residence and one four days earlier at his mother's home remain a mystery.
Someone driving by Gates' home on Ripley Road reported a fire just after 6 a.m. Friday, March 23. Firefighters from Spencer, Reedy, Clover and Ripley responded, but the home was destroyed.
Four days earlier, on Monday afternoon, Flashman and John Zella were in their home at 1512 Peniel Road when they smelled smoke. Zella went outside and found flames in two locations on the back wall. He kept the fire under control until firefighters from Spencer, Reedy and Ripley arrived. Damages were estimated at less than $1,000.
Firefighters did not know the cause of either fire.
SUBSCRIBE TIMES RECORD/ROANE COUNTY REPORTER