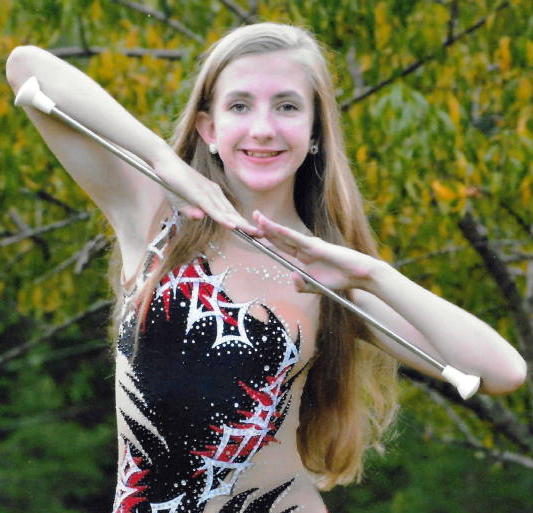 Cassidy Conley, 16 year old daughter of Darrin and Crystal Conley, lives in Sandridge, Calhoun Co. and attends Calhoun Co. Jr. Sr. High School, where she is a junior. She also has a younger brother, Chase.
Although Cassidy has been twirling for close to 2 years, she has been achieving goal after goal. She is in her second year as "Feature Twirler" with the Calhoun Co. Marching Band, under the direction of Logan Rhodes and Jordan Thompson. Her other love is dancing and she won the school talent show for the past 2 years with her dancing artistry, choosing not to enter this year.
On Saturday, Nov. 10th, Cassidy competed in her first solo twirling competition. She entered open events, including contestants from Michigan, Ohio, and West Virginia, among others. She also entered WV State events (WV contestants only). She chose to enter Divisions (classes above Novice that she could have entered). Her mother, Crystal, and her coach, Lorraine Bailey, of Orma, both agreed to her decision.
Cassidy's wins include, four first places in the following: WV State Fancy Best Appearing modeling; WV State Shabby Chic modeling; Open Fancy Best Appearing modeling; Open Shabby Chic Modeling.
Four second places in the following: WV State Photogenic; WV State Queen in gown modeling; Open Queen Modeling; Open Basic Strut.
One third place in WV State Basic Strut and One fourth place in WV State Solo. Everyone is quite proud of Cassidy.