READ THE HISTORY WITH MANY PHOTOS OF THE RAILROAD THAT MADE SPENCER WITH LINK AT END OF STORY

Train #457 runs across Barrs Trestle headed for Spencer,
WV in this 1952 image. B&O Ten-Wheeler #2026 leads a coach
and mixed manifest bound for the Roane County seat
Photos courtesy of www.wvncrails.org
By Bob Weaver
The Ravenswood, Spencer, and Glenville Railway railroad coming in 1886 made the City of Spencer and contributed to the economic development of the region.
The RSG line stopped at Spencer, never to continue its route through Calhoun to Glenville.
By 1900 a number of outfits sought to built the Little Kanawha Railroad from Parkersburg to Grantsville, with some projects actually building some roadbed. They all went broke.
The only railroad built in Calhoun was a narrow-guage into the Bear Fork wilderness from the Elk River, the project used to haul timber to make barrel staves.
As a young person, in the Village of Hur, I could hear its train whistle if the air was right, contributing to the fascination of steam engines that stretched across America, romanticized by many.
I can remember my parents driving to the Spencer depot to pick up items shipped by railway express.
The romantic connection to giant steam engines further developed going to Parkersburg as a youngster in the 1940s-50s, watching the monsters travel across the trestles across the town's main street, or traveling alongside them on Route 47.
Certainly the train allowed for shipping in large objects like Sears and Roebuck homes and silos, certainly heavy equipment used for drilling, and shipping out cattle and other livestock.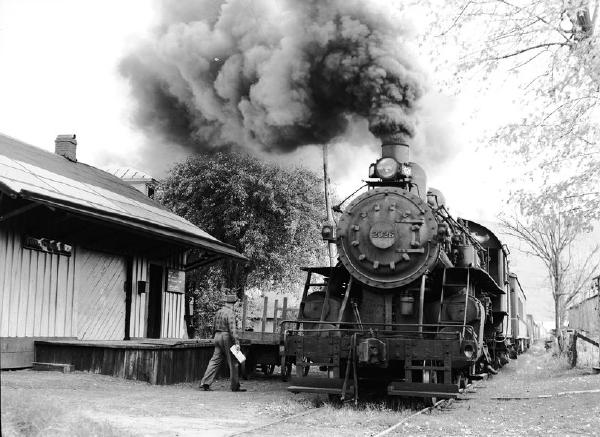 The Reedy agent walks out to meet Train #458 in a time honored
tradition as it was in bygone years. Looks like there are no pass-
engers heading west this day in 1951 and the condition of the track
in this scene explains the 20 MPH speed limit on this branch
Photo Richard J. Cook/courtesy Allen County Museum All rights reserved
During its final run in the 60s, I was among a number of people who hitched a ride on the slow moving train, slow moving because the trestles and rails were becoming quite brittle.
The railroads contribution to be area has been a foundation for the City of Spencer, unlike most small WV towns off the main drag, has continued to display some level of prosperity.
Today, the old depot is a historical landmark.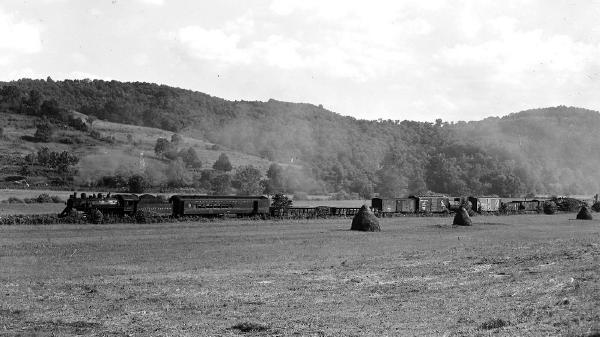 Unidentified location appears to be near Leroy. Two 4-6-0s
are on this #Train 457 in 1952 with the second as a pusher --
this is the same train that is in the photo below on Barrs
trestle. Note the haystacks from the recently cut field. Richard
J. Cook photo/courtesy of Allen County Museum All rights reserved
READ the history and photos of the railroad at: