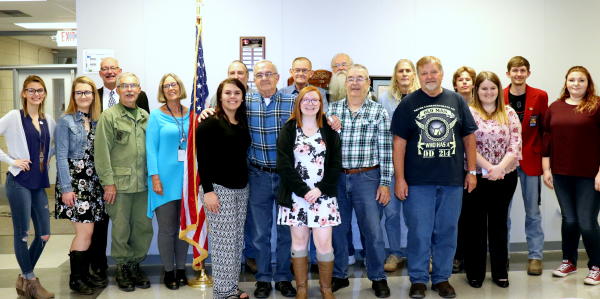 Several attended the honoring of Veterans
at Calhoun-Gilmer Career Center Nov. 7th
GRANTSVILLE — The public was invited to attend the Veterans Day Program held November 7, 2018 at Calhoun-Gilmer Career Center (CGCC).
The ceremony was coordinated Mr. Michael C. Jackson and Ms. Kari Hamric; however, the program was led by representatives from several Simulated Workplace (SWP) companies.
Special guests included Veterans Daniel Baum, Susan Greathouse, Lloyd Hall, Arthur Lemaster, Owen Lemaster, Stanley Mleczko, Kevin Pauley, Daniel Sadler, Chester Sholes, and Ken Townsend.
The program was opened by members of the Calhoun-Gilmer Security Inc. SWP; Pledge of Allegiance led by Clayton McCune, History of Armistice Day read by Alexis Copeland, Flanders Fields read by Gracie Cooper.
Veterans who spoke about their time in service were introduced by student representatives from the CGCC Simulated Workplace Executive Leadership Team. Those representatives included: Matthew Chase, CGCC Weld Fab; Allison Conrad, Calhoun-Gilmer Innovations; Gracie Cooper, Calhoun-Gilmer Security Inc.; Willow Lane, Calhoun-Gilmer Security Inc.; Alexis Little, Calhoun-Gilmer Innovations; Ashley Rush, Coyote Beautiful Bistro; Briar Stehman, Coyote Beautiful Bistro.
Veterans honored at the C-GCC program held Nov. 7th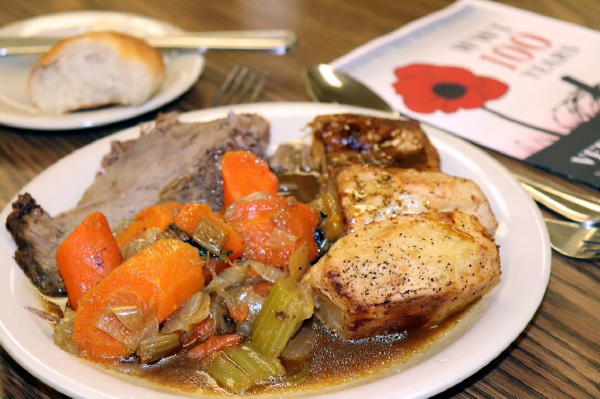 A delicious American Pot Roast meal was served to all attendees
Students had time to visit with the Veteran guests and those who stayed for lunch were served a wonderful meal of Salad, American Pot Roast, Roasted Potatoes, and Homemade Bread Rolls all prepared by the Coyote Beautiful Bistro SWP under the guidance of Chef Instructor Liljon McCormick. Students who prepared and served the meal included Shelby Clawson, Misty Clevenger, Brittney George, Chloe Stanley, Abby Starcher, and Briar Stehman.
Photographs of the ceremony were taken by Stephanie Bradley and Alexis Copeland of Calhoun-Gilmer Security and by Calhoun-Gilmer Innovations SWP students: Cole Bell, Micheal Murphy, Shane Schoolcraft, Helma Starcher, Zane Vineyard, and Virginia McCormick, instructor.
At the end of the day, Taps was played by Kaylene Snyder, Riverside Health Care.