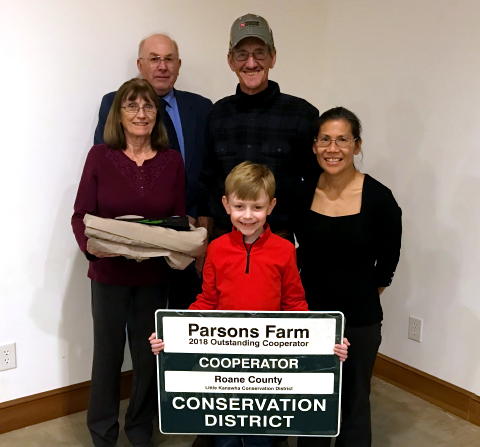 Pictured left to right: Supervisor Sam Sheets, Donna Parsons,
Eugene Parsons, Supervisor Thanh Ashman, and Levi Wilkins
Eugene Parsons was selected by the Little Kanawha Conservation District as the 2018 Outstanding Cooperator for Roane County.
Eugene and his wife Donna live just north of Spencer on the west side of Rt. 14. Eugene retired a few years ago from the WV Department of Highways so he could devote full time to what he really loves doing - farming. His farming operation is a cow-calf operation on primarily leased ground. He farms the Bill Bailey, Jerry Greathouse, Denver Gandee farms, and other places on which he makes hay.
Eugene has leased the Bill Bailey farm for many years. This farm is split by Rt. 33 and is located on the hillside just east of Spencer. On this farm Eugene has made great improvements to the pasture management, installed watering systems, and constructed a roofed feed pad with manure storage. He has also smoothed some steep bare areas and reseeded to prevent erosion.
The Jerry Greathouse farm is a large farm located on the ridge along Nancy's Run road and has nice laying hayfields and excellent pasture. Improvements which Eugene has installed on this farm are gutters on the barn used for winter feeding and rocking the lot in the same area to decrease the amount of mud. He has also reseeded areas and improved water developments.
The Denver Gandee farm is a steep farm along Colt Ridge Road and is used mostly for pasture. Denver was a former LKCD supervisor and Eugene has leased this farm for many years - ever since Denver's health forced him to quit doing the work himself. Eugene has improved this farm with lime through the Little Kanawha Conservation District and with better pasture management.
Eugene's farming operation is mostly on leased ground, but he farms them and cares for them as if he owned them. This is what makes him such an outstanding conservation farmer.